Speedster Tyreek Hill Refuses to Enter Dolphins QB Tua Tagovailoa's House For This Cartoonish Reason
Published 05/15/2022, 10:00 AM EDT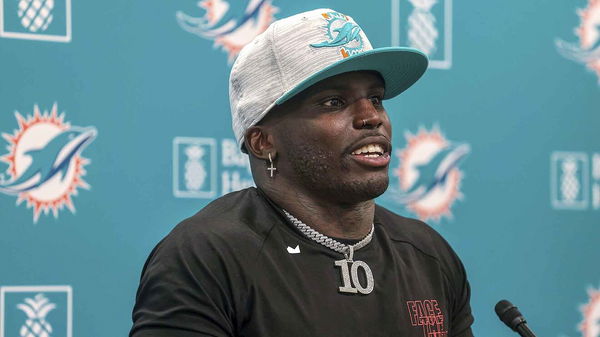 It appears that Miami Dolphins' wide receiver Tyreek Hill and quarterback Tua Tagovailoa have already become an inseparable duo in the last few weeks. A live example of the ever-developing rapport between them can be seen in Hill's recent social media activity. The Dolphins' wideout was paying his QB a house visit but stops in his tracks with fear.
In his Snapchat story, Hill records a funny reaction to how one of Tagovailoa's dogs scared him. While capturing the moment, Hill's comments do crack Tua up, who was speechless on his questions.
ADVERTISEMENT
Article continues below this ad
The clip will give the Dolphins fans a lot of hope ahead of an important NFL campaign in 2022.
Both Hill and Tagovailoa have been developing their synergy with each other on the field and seem to be getting on well off it. While Hill will be joining his new team, Tua will have a crucial season to prove he deserves to hold on to the starting job. There will be a greater urgency within the Miami fan base to see them play in the NFL playoffs soon.
Can Tyreek Hill push the Dolphins into playoff contention in 2022?
The trade for a star WR like Hill shows the intent of the franchise to chase success in the upcoming NFL seasons. After a 9-8 finish last season under head coach Brian Flores, the Dolphins have made it no secret they want to win now. After missing out on the NFL playoffs in the AFC East division to the New England Patriots, Hill can be the difference-maker for the franchise.
ADVERTISEMENT
Article continues below this ad
While the Dolphins now possess one of the scariest WR departments in the league, the Buffalo Bills will be the team to beat.
The franchise will have to muster results against their divisional rivals to have any hope of making the NFL playoffs.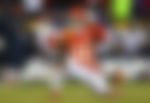 ADVERTISEMENT
Article continues below this ad
Dolphins fans understand the exciting situation they currently are within and how it can all slip away. But there will be plenty of hope and optimism among players and fans to make something of this NFL campaign.
Watch This Story: Tom Brady vs Aaron Rodgers, Patrick Mahomes vs Josh Allen: Top 5 Must Watch Matchups of the NFL 2022 Regular Season