"Stay Away": Skip & Shannon Rap Lamar Jackson for Ignoring $133,000,000 Offer
Published 03/19/2023, 6:24 AM EDT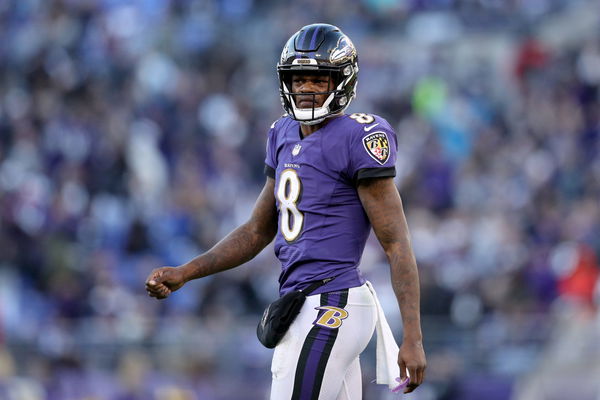 Lamar Jackson's story in this free agency trade window is like the climax of a movie without any outcome. The Baltimore Ravens recently non-franchise tagged the player. It means that the quarterback was free to test out the free agency period to see if any other team will be interested in holding a talk with Jackson. But despite all the hype before his non-franchise tag, teams seemed to have backed out from making any possible moves to negotiate a deal with the player. It feels like a never-ending loop for Lamar Jackson at this point. Amidst all the controversy taking place around his contract situation, Jackson remains quiet about the fiasco.
After the 26-year-old QB turned down a $133 million/3-year contract offer recently, Shannon Sharpe and Skip Bayless opened up about their opinions regarding the Jackson drama.
Lamar Jackson criticized by Skip and Shannon
ADVERTISEMENT
Article continues below this ad
In a recent episode of UNDISPUTED, Skip, and Shannon blasted Lamar Jackson for turning down a $133 million three-year contract deal offered by the Ravens. They feel that Jackson is digging a hole for himself by bringing a stalemate into his own situation. And as the hole gets deeper, his contract value will keep on decreasing in the eyes of the NFL world.
Skip said, "The first thing it told me was no Lamar, no. Please no. The next thing it told me was that other teams, and I have been covering this league for a long time and I know how they sheep think about issues. Other teams are going to look at that tweet like a big neon sign up on Twitter that says 'stay away from Lamar Jackson'." 
Lamar Jackson recently broke his silence about his contract stance with the Baltimore Ravens on Twitter. He tweeted, "133/3 years fully guaranteed. But I need an agent?" 
133/3years fully guaranteed😒 but I need a agent? 🤣🤦🏾‍♂️

— Lamar Jackson (@Lj_era8) March 14, 2023
ADVERTISEMENT
Article continues below this ad
While the tweet still leaves the parameters of his contract unclear, one thing is for sure: it does not satisfy the QB.
The Jackson contract saga
Last year, the Cleveland Browns offered Deshaun Watson a $230 million five-year deal. This led to Jackson wanting a contract of a similar sort from the Ravens. He felt he was of the same value as Watson.
ADVERTISEMENT
Article continues below this ad
This was the beginning of a long standoff between the franchise and the player that is going on to date. It will be interesting to see if agentless Jackson will be able to build common ground with the Ravens before the 17 July deadline. Or will another team offer him a worthy contract in the coming days? Only time will tell us about Jackson's future in the NFL.
Watch this story: "Jackson does more than Aaron Rodgers" Former Super Bowl MVP and NFL legend believes Lamar Jackson is more valuable than Aaron Rodgers
Edited By: Deepika Bhaduri