Stephen A. Smith Compares Leadership Styles of Tom Brady and Aaron Rodgers
Published 03/28/2021, 12:18 PM EDT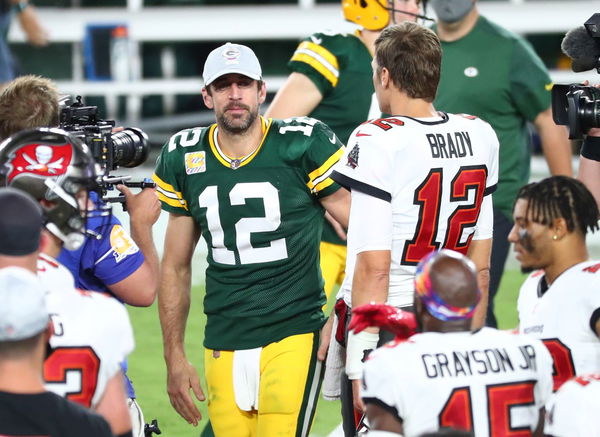 ---
---
The Aaron Rodgers-led Green Bay Packers were one of the favorites to lift the Super Bowl title last season. They won the NFC North title with a 13-3 record and winning the top seed in their conference.
ADVERTISEMENT
Article continues below this ad
They put in a commanding display to beat top-ranked defensive side Los Angeles Rams in the NFC Divisional Round.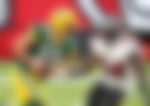 However, their season was brought to an abrupt halt in the NFC Championship game, yet again. The Packers succumbed to a narrow 26-31 loss at the hands of eventual Super Bowl LV winners, Tampa Bay Buccaneers, at Lambeau Field.
ADVERTISEMENT
Article continues below this ad
This was their second consecutive loss in the conference championship game, which did not sit well with the Green Bay faithful.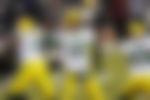 Lead Analyst gives his take Aaron Rodgers and Tom Brady ahead of 2021 season
Despite rumors surrounding his future, Aaron Rodgers will return for the Green Bay Packers in 2021. Popular American analyst Stephen A. Smith was quick to compare the respective differences between Rodgers and Tom Brady, who had contrasting fortunes last season.
He said, "When you bring up the Conference Championship Game excuse me that ain't a product of Matt LaFleur, it's a product of Aaron Rodgers…if it's Mr. Rodgers as your quarterback, he is one of the greatest we have ever seen and we're looking at an organization and when we juxtapose that, we look at the Tampa Bay Buccaneers. "What's going on with Tampa Bay? Tom Brady, numbers-wise, didn't necessarily have a better season than Aaron Rodgers but you know what? He had leadership and guess what happened? The organization showed faith in that.
"Bruce Arians said what do you need? what do you want? Because Tom Brady is so great we're going to defer to him. This is the personnel he feels he needs in order to win we're gonna roll with that," Smith said on the show.
ADVERTISEMENT
Article continues below this ad
The Packers have managed to bring back Aaron Jones on a long-term deal. But they are currently working on a tight budget and trying to adhere to the reduced salary cap put in place by the NFL.
A-Rod refused to restructure his deal in order to free up additional cap space for the Packers. But that debate is for another time.
Right now, the NFC North champions need to make some additions to their offense or risk another shot at making the Super Bowl in 2021.
ADVERTISEMENT
Article continues below this ad