Stephen A. Smith Left Perplexed by Constant Justin Fields Criticism
Published 04/27/2021, 4:40 PM EDT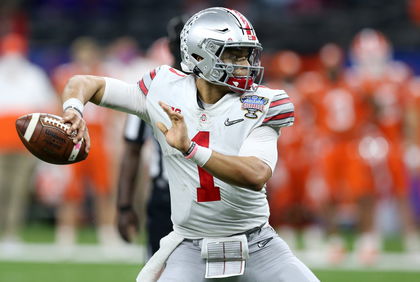 ---
---
As we edge closer to the 2021 NFL Draft, all eyes are on Ohio State Buckeyes quarterback Justin Fields. The Georgia-born athlete finished as a Heisman Trophy finalist this year. He threw for 2,100 yards with 22 passing TDs as OCU lost the CFP National Championship final to Nick Saban's Alabama Crimson Tide football team.
ADVERTISEMENT
Article continues below this ad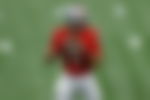 He finished his 2-year stay in Ohio with 5,373 yards with 63 passing TDs against just 9 interceptions. He began the offseason as a firm favorite to join New York Jets as the 2nd overall pick behind Trevor Lawrence. But that's not the case anymore.
ADVERTISEMENT
Article continues below this ad
Popular American analyst Stephen A. Smith was particularly confused as to how this has come about.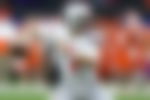 Stephen A. Smith defends under-fire quarterback Justin Fields
Speaking on the latest segment of ESPN's First Take, Smith was critical of all the negative feedback that Justin Fields is attracting over the last two weeks.
"I just want somebody to explain to me, how does the season end, and Justin Fields is universally recognized as the number two quarterback in the draft outside of, you know, Trevor Lawrence. And somehow, some way, without a game being played without an interception being thrown, without a turnover being committed, without an incompletion pass being thrown, this brother dropped to arguably the 5th best quarterback in college football."
ADVERTISEMENT
Article continues below this ad
"How the hell does that happen….as a matter of fact, immediate speculation was that Mac Jones is going to be a first-round pick. And now we're talking about he's going #3 overall, I got a problem with the evaluations that were evidently prematurely put out there," Smith said on the show.
Well, if not #2, then Fields could be on his way to San Francisco as the number three overall pick. Kyle Shanahan and 49ers GM John Lynch both attended Justin's second Pro Day showing earlier this month. Despite Fields' recent revelation of his struggle with epilepsy, teams are still determined to pick him in the 1st round.
The Red and Gold are still assessing their options at #3. But if they move for someone like Fields, they can rest assured that they will acquire a fine young man who can make it big in the NFL.
ADVERTISEMENT
Article continues below this ad