"These Young Men are Hurting"- Baltimore Ravens' Owner Clears His Stance on Racism
Published 06/15/2020, 6:25 AM EDT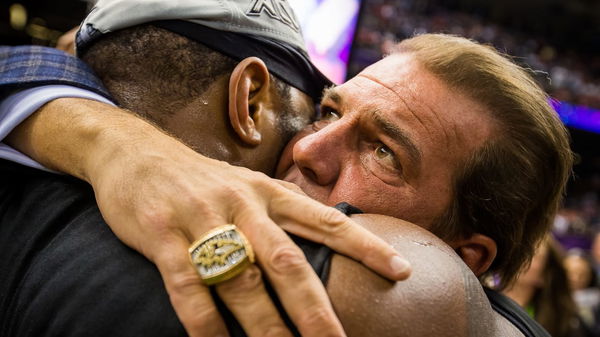 ---
---
The NFL has witnessed a number of players and team officials rallying in support of the Black Lives Matter movement. And now, yet another NFL powerhouse has pledged his support to the ongoing struggle. Baltimore Ravens' owner Steve Bisciotti said he would be a hypocrite if he did not speak up about racial injustice.
ADVERTISEMENT
Article continues below this ad
In a team-produced video, the Ravens' frontman urged everyone to ask uncomfortable questions. He asked people to challenge systemic racism that persists in the United States enduringly.
The video featured players as well as officials from the team. Bisciotti said anyone's inability to support the movement openly is a sign of entitlement and lack of empathy.
ADVERTISEMENT
Article continues below this ad
The team owner's statements closely echoed that of the NFL's commissioner Roger Goodell. Goodell and NFL recently condemned racial bias and injustice publically after multiple strongly worded requests by league's icons.
The NFL boss had admitted to not having listened to the concerns that had been plaguing the players in the past or supported peaceful protests. However, Goodell made the NFL's stance clear when he said that at NFL, black lives mattered.
Numerous Ravens' players took to social media to comment on social injustice following George Floyd's demise. In the team video, defensive linebacker Anthony Levine Sr. and defensive tackle Brandon Williams spoke of their distrust and lack of faith in the police.
Acknowledging his players' apprehensions, Bisciotti exclaimed that asking the NFL to stick to sports is the worst argument possible when archaic social issues like this still seem to exist.
He said that if his players, irrespective of race, failed to address the issues in their communities, they are hypocrites. He added that if he didn't defend his players protesting injustice, he himself would be the worst kind of hypocrite.
Baltimore Ravens' QB Lamar Jackson says the color of a person's skin shouldn't matter
The video, featuring nearly 20 people, saw black players' hopes for their kids would to grow up in an inclusive and tolerant society. Meanwhile, the white players showed their willingness to bring about that change.
Quarterback Lamar Jackson said that the color of a person's skin should not matter. He added people should be kind to everyone irrespective of race or ethnicity.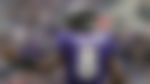 Head coach John Harbaugh, who has supported players protesting against social injustice in the past, claims that his generation has an opportunity to redeem themselves. He said that together they could bring about the change that will make America great again.
ADVERTISEMENT
Article continues below this ad
"It should not matter about the color of your skin, " says QB Lamar Jackson. "You should treat someone kindly."
The Ravens and Bisciotti's foundation have committed $1 million to support social justice reforms.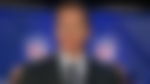 ADVERTISEMENT
Article continues below this ad