"Still Mad About '07" – Eli Manning Takes Cheeky Dig at Tom Brady and Bill Belichick
Published 09/28/2021, 10:05 PM EDT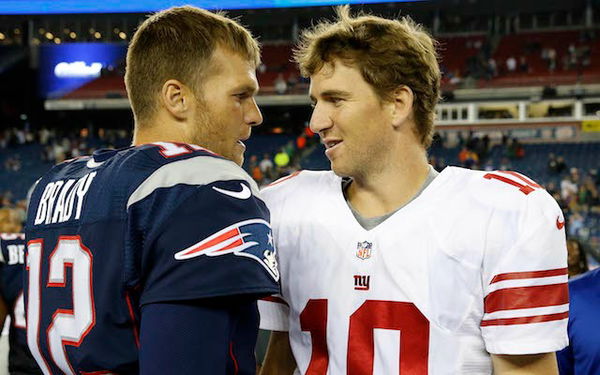 ---
---
If there are two players more synonymous with the NFL than Tom Brady, they're Peyton and Eli Manning. The iconic duo have won four Super Bowls with teams like the New York Giants, Denver Broncos and Indianapolis Colts. But out of the two brothers, only one has beaten Tom Brady at the Super Bowl, and that's Eli Manning.
ADVERTISEMENT
Article continues below this ad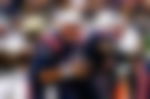 Eli Manning fires shots at Tom Brady and Bill Belichick
ADVERTISEMENT
Article continues below this ad
In 2007, Tom Brady had an amazing season and sealed his MVP award way before the Super Bowl. But standing between him and the Lombardi Trophy was Eli Manning. The veteran quarterback put in a shift, outclassing Brady and leading the Giants to a 17-14 win.
On the Monday Night Football special, Manningcast, the brothers, especially Eli, took aim at Tom Brady and Bill Belichick. He claimed they were still bitter about their loss at the Super Bowl, and he wants to bring to them together to talk about it.
"Yeah, those guys usually don't talk to me. They still bring up the '07 Super Bowl. They're still mad about that. They're bitter. So, I'm glad I can bring them together and give them something to talk about," Manning said. Elder brother and two-time Super Bowl winner Peyton Manning, joined in on the fun.
"That's a heck of a tribute, E, from Tom Brady and Bill Belichick. I think you're the only one that beat them in the Super Bowl that can bring them together now to do a video together – a testimonial to you. Congratulations. You're a healer. You're a bonder, bro," Manning said on the broadcast.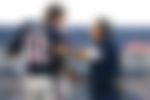 Where is Super Bowl LVI going to take place?
Super Bowl LVI has the potential to be one of the best Super Bowl games in history. Not only will it be the first Super Bowl to follow the COVID-19 pandemic, it'll be a showcase of just how much football means to fans in America and around the world.
For a game with that much significance, the stadium has to be a banger. And yes, it is a banger. Super Bowl LVI will emanate from the SoFi Stadium in Los Angeles. Home of the Los Angeles Rams, they are currently favorites to end up in that spot because of their unbeaten season.
Most recently, they beat Tom Brady and Tampa Bay Buccaneers at the stadium. Not only is it a work of modern art, it is one of the most magnificent stadiums in the world, with a gigantic seating capacity of 100,240. Following the Super Bowl, WrestleMania 39 would be the next mega-event taking place there.