Super Bowl LVI Halftime Show: 50 Cent Surprises SoFi, Dr. Dre, Snoop Dogg, Eminem and Kendrick Lamar Set the Stage Ablaze
Published 02/15/2022, 4:39 AM EST
By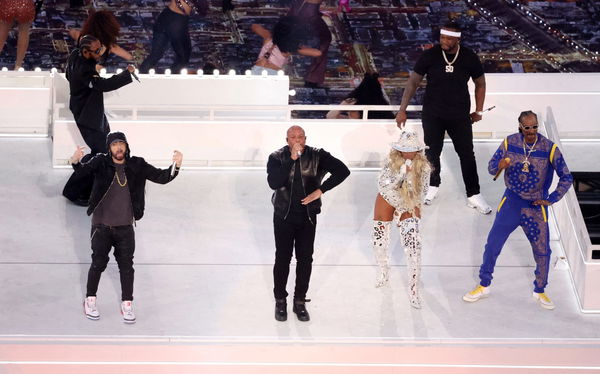 The Super Bowl LVI Halftime show proved to be just as entertaining as the on-field action, if not more. It was a starry affair headlined by Dr. Dre along with Snoop Dogg. But the highlight of the night for a lot of people was the surprise visit from, none other than, 50 Cent, who entered the night UPSIDE DOWN.
With that, we had Mary J. Blige, Eminem, Anderson. Paak and Kendrick Lamar set the stage ablaze in SoFi Stadium. The show was a collaboration between NFL and Roc Nation, Jay-Z's Entertainment Company.
ADVERTISEMENT
Article continues below this ad
The natives of California gave their all to make this special event even more entertaining. Dre, along with Snoop Dogg and Kendrick Lamar has been the face of hip-hop music on the west coast for years now. Being from the area, they are well-versed with the culture and some might argue have played an integral role in creating said culture.
50 cent surprised everybody
50 cent's name was not on the performer's list but he made a super surprise entry. He started his performance hanging upside down on the stage. He sang a good part of his song from that position only, creating a visual masterpiece.
 

View this post on Instagram

 
Eminem knelt, Kendrick was censored
Eminem, an active proponent of social issues, especially black lives matter, knelt during his performance at the Super Bowl. Reports suggest that the producers knew that this was going to happen. The NFL even specifically asked Eminem not to do so but he was keen to show solidarity to Colin Kaepernick.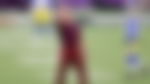 Kaepernick has been out of an NFL job since he knelt during the national anthem. Eminem knelt for a whole minute to show solidarity with the African-American community and Kaepernick.
Kendrick Lamar on the other hand has songs that use some NSFW language since his flow is very natural, everyday language. His performance was obviously energetic and fiery but fans missed out on some of the key lines from the premier songs he played.
Nevertheless, that's probably the price of admission for performing in the Super Bowl Halftime show.
Everyone was up and grooving in Super Bowl LVI
ADVERTISEMENT
Article continues below this ad
The Super Bowl halftime show is a tough act to nail, given the expansive history of performers, it has seen. Michael Jackson and Prince's performances are considered some of the most memorable ones. And if we are to go by the reactions of some fans, this show sits right at the top along with those two.
OMG!!!!!!!!! WOW WOW WOW!!!!!!!! THE GREATEST HALFTIME SHOW IVE EVER SEEN!!!

— LeBron James (@KingJames) February 14, 2022
ADVERTISEMENT
Article continues below this ad
The Super Bowl was not just star-studded in the middle of the field but also on the sidelines. A-list fans from all over came in to watch the Super Bowl, live in LA. Justin Beiber was there singing along with Eminem from the ropes. So was Lebron, who even reacted on social media to express his delight at the halftime show.
Watch This Story: Usain Bolt, Shaun White, Chloe Kim, LeBron James, and Other Olympians Attend the Super Bowl LVI