Super Bowl Win All That Matters for Miami Dolphins QB Tua Tagovailoa
Published 02/25/2021, 6:38 AM EST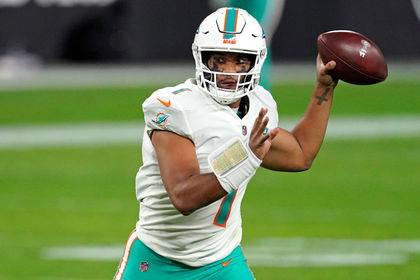 ---
---
Drafted 5th overall by the Miami Dolphins in 2020, Tua Tagovailoa was set to be the answer to the franchise's long-standing quarterback woes. And it's safe to say that the former Alabama Crimson Tide quarterback has shown promising signs of being just that.
ADVERTISEMENT
Article continues below this ad
Coincidentally, his performances have also made him a fan favorite among the Miami Dolphins faithful. The NFLPA had released numbers for player merchandising sales just before Super Bowl LV, covering the period from March 1st to November 30th last year.
While Tampa Bay Buccaneers QB Tom Brady and Patrick Mahomes of the Kansas City Chiefs took the first 2 slots, it was interestingly Miami's rookie quarterback who slotted in at 4th position.
ADVERTISEMENT
Article continues below this ad
Hip injury, not an excuse for Tua Tagovailoa 
One quality that stands out in the young quarterback is his want to always be better. Over the course of the 2020 season, Tua talked about how he could've done things better to help his team.
Many believe that the quarterback couldn't perform to the best of his abilities as he was still finding his feet after suffering a dislocated hip injury he had picked up during the final few games of his collegiate career.
This, though, is not something Tua feels that can be used as an excuse for his performances.
"I would say with the hip talk and whatnot — to that there is no excuse for me," Tua said to SportingNews.com. "Even with the hip or not the hip, I didn't play the way I wanted to play. 
"For me, I was very comfortable before I stepped foot on the field," he said. "I feel like I could have done things a lot different. When the season had happened as far as preparation for teams that we were playing."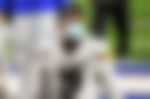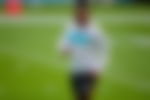 Winning a Super Bowl remains the main goal
When it came to his popularity among the fans, Tua said while it's something he feels honored to have achieved, it's not his main driver.
"I'd say it did surprise me. But it shows the support the fans in Miami and Dolphins nation have for our team… It's very honorable to say the least that a lot of Dolphins fans want to buy my jersey," said Tua.
ADVERTISEMENT
Article continues below this ad
"I think popularity falls on the last of my list of things that I want… I just want to help my team win games, man… If I could give up the whole popularity deal and win a Super Bowl, then I would do that in a heartbeat."
The Miami Dolphins barely missed out on the Playoffs in 2020. But 2021 could be very different for the side. With Tua, the team is entering its winning window.
And in a couple of seasons, Tua's dream could very well materialize.
ADVERTISEMENT
Article continues below this ad
ALSO READ- Tampa Bay Buccaneers GM Jason Licht Teases Tom Brady Contract Extension