Surprise Of The Century Hits The NFL As "Cheetah" Tyreek Hill Moves To Miami For $120 million
Published 03/24/2022, 11:30 AM EDT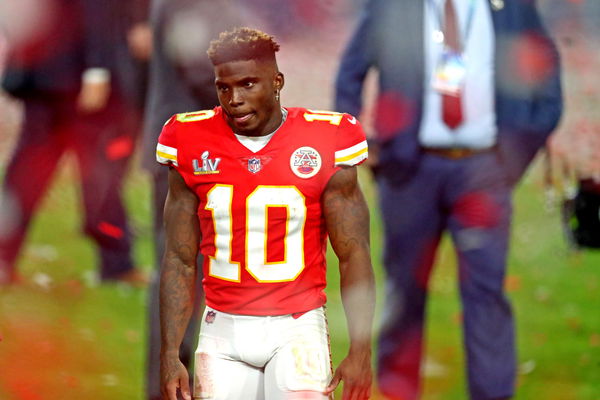 The 2022 NFL offseason has sent fans on a tumultuous swing of sentiments. It took a lot of faith to believe that one day, here in the NFL would pass without another big transaction commanding the narrative. On Wednesday, the Chiefs have traded Tyreek Hill to the Dolphins after failing to agree on a contract renewal with the All-Pro wide receiver.
ADVERTISEMENT
Article continues below this ad
Despite all the euphoria that transpired during the postseason, the past weeks have likely been exciting for anyone who enjoys the game. The Chiefs' decision to trade Hill wasn't unusual. They didn't want to invest that much cash while they attempt to keep their cap limit under control.
In recent times, the Raiders have dealt with Davante Adams last week by Packers. Currently, Kansas City has traded Tyreek Hill to Miami. While both teams have gained big, who got the upper hand for the upcoming season?
Another day, but a new Tyreek Hill trade
According to Adam Schefter, Tyreek Hill earns a contract offer, crowning him the NFL's new highest-paid WR a week after Davante Adams established the record. The athlete's contract is a four-year deal worth $120 million, with $72.2 million guaranteed.
In exchange for 'Cheetah,' Kansas City will get a first-round pick, a second-round pick, and a fourth-round pick in 2022. In 2023, it will get a fourth-round pick and a sixth-round pick.
Hill's departure takes away one of the NFL's most prolific pass catchers from a squad that was once regarded as the league's most lethal. This move has deprived Patrick Mahomes of one of his major targets.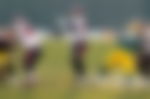 There's no doubt that the Miami Dolphins have reserved one of the most dynamic wideout stars. The franchise lacked an effective receiver, so this trade stands to reason. In Miami, he'll take over as Tua Tagovailoa's new no. 1 target, alongside Jaylen Waddle.
But which Franchise is the real winner?
Tua Tagovailoa, the Dolphins QB, suddenly has a true solid target on the receiving end. They can look at Hill as the franchise's most valuable acquisition in recent years. The Raiders have now teamed Derek Carr and Davante Adams, both of Fresno State. Fans are also aware of what they can accomplish when they work together.
ADVERTISEMENT
Article continues below this ad
Tyreek Hill is ninth in receptions (479), receiving yards (6,630), and receiving touchdowns (56). Hill has 28 deep-ball touchdowns since entering the NFL, six more than the rest.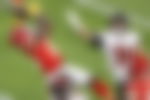 The Chiefs selected Hill in the 2016 draft. That was the year wherein Adams properly cemented himself as a mainstay for the Bay. Adams had the most receptions (669), receiving yards (8121), and receiving touchdowns (73). The statistics of both athletes speak for themselves and their domination in the league.
ADVERTISEMENT
Article continues below this ad
Both teams have stocked up their rosters and are raring to go. In addition, they have several advantages in the 2023 season.
Watch This Story: Baker Mayfield's Preferred Destination Revealed After Being Trashed By Cleveland Browns