"Talking About an Agent, and His Mom Playing the Role": DeSean Jackson Throws "NFL Owners" Under the Bus Over Lamar Jackson Contract Standoff
Published 03/15/2023, 1:44 PM EDT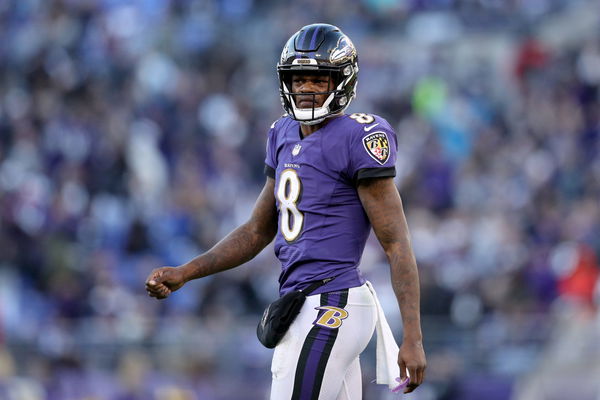 Every single NFL fan has been taken aback by the ongoing Lamar Jackson debacle. With fans having showcased their own displeasure at the Baltimore Ravens for mishandling the quarterback's future, several others went on to blame the representation. Many teams appeared to be lining up for Lamar Jackson earlier, but right now the man looks out of options. But how is his mother involved in this?
The Ravens have since put Jackson under their non-exclusive franchise tag, allowing him to gauge the market. Officially a free agent, Lamar Jackson is allowed to talk to any team in the league, but for some strange reason, the teams have pulled out. Some have crafted the theory that maybe Lamar Jackson's mother might have played a role in him not securing the bag, but Desean Jackson spoke out in support of her.
DeSean Jackson comes out in support of Mama Jackson
ADVERTISEMENT
Article continues below this ad
Lamar Jackson has faced a ton of criticism for not having an agent. His most trusted associate would be his mother, who also happens to be his manager and business partner.
While several believe Mama Jackson to have played a role in the negotiations, DeSean Jackson blamed the owner of the NFL teams.
During the latest episode of the, 'I Am Athlete' podcast, DeSean went on an epic rant about the situation.
DeSean started by recalling Lamar Jackson's greatness, "You saying it doesn't matter because he is one of the hottest quarterbacks? He has done numbers for them, and his record is 80%, so your point is saying he is valuable and I got to sign him.
"Now we talking about an agent, and his mom playing the role being the agent and messing him up from getting paid," he added.
He went on to cite the owners as being the key reasons behind Lamar not having offers, "These owners bro, when they go do them deals, with their agents, you don't think they kick back? Like, 'Oh I looked out for you on this deal, so look out for me on that.'"
Many in the league agree with DeSean and have a similar theory believing the NFL teams to have played their hand behind the scenes.
ADVERTISEMENT
Article continues below this ad
The beginning
The Lamar Jackson-Ravens staredown intensified as Deshaun Watson signed a dream contract with the Browns. As per reports, Deshaun Watson was offered a five-year, $230 million fully guaranteed deal back in March 2022.
Ever since then, Jackson has been hellbent on securing a similar deal with the Ravens, while many would say that Jackson is worth more than Watson, the Ravens organization disagrees.
ADVERTISEMENT
Article continues below this ad
Lamar Jackson, being confident in his abilities has refused to pivot and could now be potentially paying the price of that. In what can be termed nothing short of a visionary decision, the Ravens have since played a masterstroke, allowing Jackson to test the free-agency waters but something deep seems to be in the works.
Watch This Story: "[Jackson] does more than Aaron Rodgers": Former Super Bowl MVP and NFL legend believes Lamar Jackson to be more valuable than Aaron Rodgers