'After Me For a Long Time': Tom Brady Opens Up On The Time His Current Teammates Were His Opponents
Published 11/11/2021, 4:59 PM EST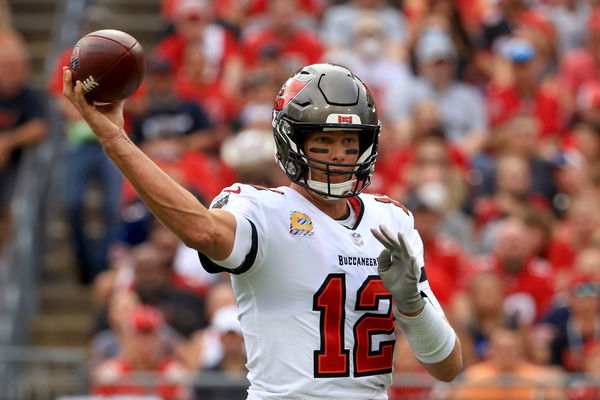 ---
---
Tom Brady is arguably the greatest player to have set foot in the NFL. The records and achievements of the player speak for themselves, which is why he is widely recognized as the G.O.A.T. When a player of Brady's stature praises you, it means that you have made it in the NFL.
ADVERTISEMENT
Article continues below this ad
Recently, Tom Brady on his podcast spoke about his experience of playing against his current teammates while he was a Patriots player. In the podcast, the Bucs quarterback showered praises on his current teammates and spoke volumes about their professionalism.
ADVERTISEMENT
Article continues below this ad
Tom Brady heaps praise on his teammates
In the latest episode of the "Let's Go" podcast, Tom Brady spoke about past opponents who are now colleagues. The Tampa Bay Buccaneers quarterback particularly spoke about cornerback Richard Sherman, outside linebacker Jason-Pierre Paul, and defensive end Ndamukong Suh.
"I've really enjoyed my time with him (Sherman). Ndamukong Suh was after me for a long time and now he's my teammate. I love him on my team," said Brady in a clip of the podcast that he posted on Twitter.
"JPP, another one, he got after me for a long time, now I'm his teammate. It's really unique. I think there's great respect that we all have for one another when we meet and ultimately get to know each other," added Brady,
ADVERTISEMENT
Article continues below this ad
"If you're not first, you're last."
Later on in the podcast, the Tampa Bay quarterback spoke about despite distinct skill sets, they are united in their mentality. The entire Bucs outfit has the same aim and that is to win it all. For them, coming second is the equivalent of coming last.
"We're all after the same thing. That's part of the competition. We're all after that one thing that's really important. I said to my friend the other day, you know the second place is the same as 32nd in the end," said Brady, adding "if you're not first, you're last. That's a Ricky Bobby line". Elite Mentality!
ADVERTISEMENT
Article continues below this ad