Rob Gronkowski Reveals Which Quarterback He Wants to Play With After Tom Brady Retirement: 'I Just Love his Swag Too. If I Had to Pick a Quarterback It'd be the Young Buck'
Published 02/09/2022, 9:34 AM EST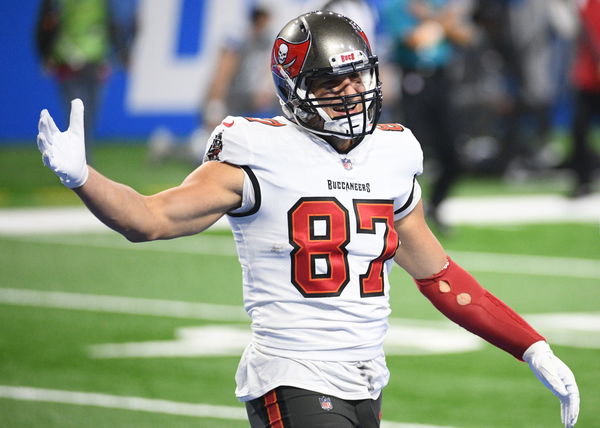 Tom Brady has exited from the National Football League. The quarterback has retired after 22 seasons. It has left his partner in crime, Rob Gronkowski, high and dry. We all know how legendary the connection between Brady and Gronk was over the years.
Both the quarterback and tight end found each other early in their New England Patriots days. They both stayed together till the end, as Gronkowski followed Brady to the Buccaneers in 2020. But for the first time, Rob finds himself without Brady throwing for him. Gronk has recently revealed the young QB he would love to play with in the future. 
ADVERTISEMENT
Article continues below this ad
Which quarterback does Rob Gronkowski wants to play with?
It is hard to even imagine Gronk on the field without Brady. But if the TE wants to continue playing, he will have to move forward without Tom. Rob Gronkowski did a Q and A with Autograph. During the session, he revealed which quarterback would he love to play with? 
"I kinda like this young buck quarterback. He's in the Super Bowl now. It's Joe Burrow, man," Gronk said. "I watched him in college. I just love the way he presents himself out on the football field. In the pocket, he's just so calm, and he just slings it out on the field."
#Bengals QB Joe Burrow on how he plans to spend his money: "I'm not going to spend any contract money. I'm just going to live off the marketing money and let the contract money accrue in my bank account."

Rob Gronkowski has done the same thing with his money.

— Ari Meirov (@MySportsUpdate) July 31, 2020
It seems like Gronk has followed the career of Joe Burrow for a long time. And he is a fan of the way Burrow presents himself like a true superstar. "I just love his swag, too. If I had to pick a quarterback, it'd be the young buck, Joe Burrow. He's killing it right now in the game." Rob added. 
ADVERTISEMENT
Article continues below this ad
Can we see Gronk and Joe Burrow play together?
Joe Burrow has led the Cincinnati Bengals all the way to the Super Bowl this season. With a record of 10 wins and 7 losses, the Bengals have won the NFL conference championship.
ADVERTISEMENT
Article continues below this ad
In March Rob Gronkowski will become a unrestricted free agent. And we are sure there are a few teams who will be interested in the All-Pro tight end. C. J. Uzomah the Bengals TE is also expected to become a free agent after the Super Bowl. A trade between the two teams can take place. If it happens, Rob Gronkowski will finally be able to play with Joe Burrow. How do you think this duo will perform on the field?