Cowboys Legend Tony Romo Under Fire for Creepy Gisele Bundchen-Tom Brady Comment
Published 10/27/2021, 8:56 AM EDT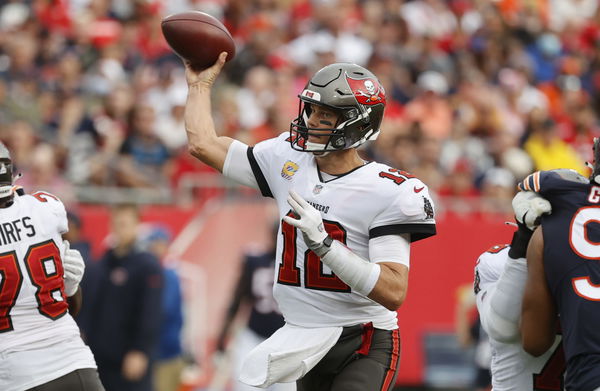 ---
---
The Bears vs. Buccaneers was a special game for the GOAT Tom Brady as he crossed the milestone of 600 TD passes of his career, making him the first in the NFL to do so. However, his night became more controversial when the Cowboys legend turned broadcaster/analyst Tony Romo made an inappropriate remake on Gisele Bundchen.
ADVERTISEMENT
Article continues below this ad
Romo's remark earned him a lot of backlash from many NFL fans as he clearly crossed the borderline of creepiness and that too on live television. Since then the analyst has been at the tip of the fingers of the Twitteratis as he has been trending for all the wrong reasons.
ADVERTISEMENT
Article continues below this ad
Tony Romo on the deal by Tom Brady
After the Bucs fan agreed-upon negotiation of trading Tom Brady's 600 TD ball with another game ball and a signed jersey, Romo went a step ahead with his imagination to utter out what he would have accepted instead of the ball.
"A date with Gisele. A date with Gisele and I'm in," Romo said, acting as the fan. "OK, Tom will do it. One time, you got it," Romo continued, pretending to voice the Bucs official.
Tony Romo talking about another mans wife like that should get his ass beat

— Barstool Carl (@barstoolcarl) October 24, 2021
Romo's controversial comment on Tom Brady's wife is certainly far from being accepted and so Twitter blew up. "Tony Romo suggesting Brady trade a date with his wife for his 600th TD ball is just weird/borderline creepy. Dude is a good broadcaster but so awkward sometimes," one person tweeted.
"Why do we need to listen to @tonyromo fantasize about trading a football for 'a day with Giselle'? What does Mr. Romo presume would happen with Gisele during that day she has been traded like property for a football?" another person asked on Twitter.
I don't think what Romo said was funny. It was tasteless. But that's just me.

— mike freeman (@mikefreemanNFL) October 25, 2021
Tampa Bay Buccaneers striking a deal with the fan
ADVERTISEMENT
Article continues below this ad
The Buccaneers fan, since the event, has received numerous gifts from the Bucs players. He received a signed jersey and a helmet from Brady, game cleats and an autographed jersey from Mike Evans a credit of $1000 for the team store two passes for the rest of the 2021 season and next season a bitcoin from Tom Brady which costs about $63,000 and over $30,ooo in his Coinbase account from Rob Gronkowski.
The Bucs fan who returned Brady's 600th TD ball will receive, per @TB_Times:

2 signed jerseys & a helmet from Tom.

A signed Mike Evans jersey & his game cleats.

A $1K credit at the Buccaneers team store.

2 season tickets for the rest of this season & next.

Good deal? 🤔 pic.twitter.com/dzdY0rItLx

— B/R Gridiron (@brgridiron) October 25, 2021
ADVERTISEMENT
Article continues below this ad
It was surely a delight for the Bucs fan to deal with the franchise, as clearly it can be seen that he negotiated well. However, his deal fell short of a TD catch from the GOAT himself. It would have been a trending clip for sure if that ever happened.