Buccaneers Head Coach Bruce Arians Talks About His Decision to Move on From Jameis Winston to Tom Brady
Published 05/11/2021, 9:42 AM EDT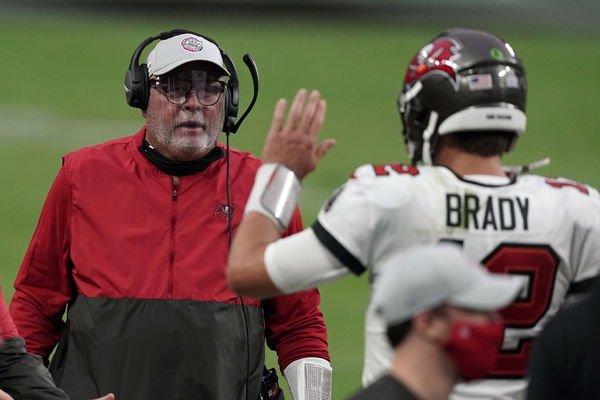 ---
---
Probably the best decision made by the Tampa Bay Buccaneers in franchise history was signing Tom Brady as a free agent in 2020. The evergreen quarterback came in and turned the franchise's fortune around in just one season. 
ADVERTISEMENT
Article continues below this ad
From Playoffs outsiders, the franchise became Super Bowl winners in Brady's first season with the Buccaneers. Thus signing Brady was not a decision that the Buccaneers faithful seem to regret. 
But before the arrival of Brady, there was Jameis Winston. Drafted back in 2015, the former Heisman winner was the Buccaneers QB1.
ADVERTISEMENT
Article continues below this ad
Current Bucs Head Coach Bruce Arians too had a chance to work with the quarterback in his last season with the franchise. But letting him go was a decision that the franchise just had to make.
Availability of Tom Brady triggered Winston exit 
Arians spent just one season with Winston in 2019. And while Winston racked up an incredible 5,000 passing yards and 33 touchdowns that season, he also threw 30 interceptions.
And with Tom Brady becoming available as a free agent, the franchise simply had to make the call to cut Winston.
"Yeah, it was (hard)," Arians said while appearing on the National Football Show. "I wanted to see him succeed… But you look and see what's behind Door No. 2 at every position in the offseason. Does it make you better? Then you have to set the personal aside," said Arians. 
Arians, however, maintained that Winston remains a much-loved figure in the Buccaneers locker room.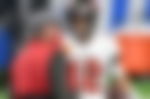 "I mean our players, our locker room still loves Jameis, (the guys) that played with him, and have all the respect in the world and wish him well."
But with Tom Brady becoming available, the Bucs believed that they had found the missing ingredient to win it all. And now, with the benefit of hindsight, one can safely say they weren't wrong.
ADVERTISEMENT
Article continues below this ad
"When Tom (Brady) became available, it was the missing ingredient for us to win a Super Bowl," he said.
With Brady locked in for another year with the Tampa Bay Buccaneers, do you think the franchise has what it takes to run it back in 2021?
ADVERTISEMENT
Article continues below this ad