'Like a Dog Chasing a Car' – Tom Brady DESTROYS NFL Defenses With Controversial Remark
Published 10/26/2021, 8:19 AM EDT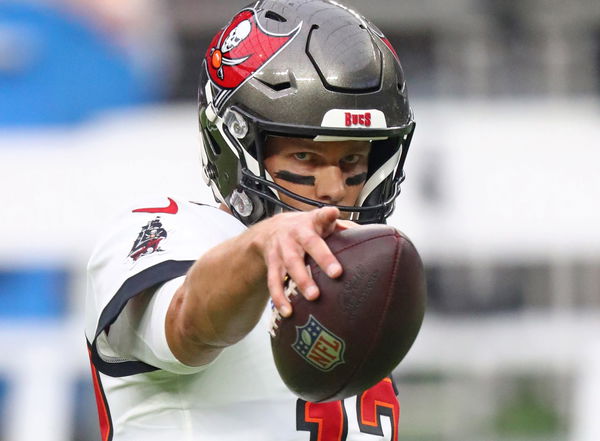 ---
---
Tom Brady is probably the only football player in the universe who can blatantly criticise anything. And we wouldn't harm a hair on his head. Brady has been the most consistent performer in the league for two decades, which means teams have still not figured out how to stop him. As a result, his recent hard take on NFL defenses might just be valid.
ADVERTISEMENT
Article continues below this ad
Tom Brady p*sses off many with enraging comment
ADVERTISEMENT
Article continues below this ad
Appearing on the Manningcast, the Tampa Bay Buccaneers' quarterback destroyed the entire NFL's defense in a matter of seconds. While he did not do it on the field, he did it from the comfort of his home. With AirPods connected and chatting with two of his biggest rivals, Tom Brady casually insulted every opposition defense he's ever faced.
And whose to say he hasn't insulted Tampa Bay's defense as well. While Eli and Peyton Manning laughed their backsides off, several defensive tackles and linebackers are plotting his death. Some could say Steve Harvey's 2019 NFL Honor's wish could come true. But what exactly did the star quarterback have to say?
Tom Brady just shredded every defensive player to ever play the game of football.

— Ari Meirov (@MySportsUpdate) October 26, 2021
ADVERTISEMENT
Article continues below this ad
"The defense? Would you give them any credit for being smart enough to figure that out? I wouldn't. Have you ever been in some of those defensive meeting rooms? You wonder why they play defense and after about two minutes you go, 'Yup, they could never be an offensive player.' Defense is kinda like a dog chasing a car. Just hit the guy with the ball."
With those comments, we can safely assume that Tom Brady is extremely unsafe whenever he steps back onto the gridiron. Every defensive player in the world has only one mission in mind after hearing his analysis; take out Tom Brady, whether or not he has the ball.
ADVERTISEMENT
Article continues below this ad
With New Orleans Saints up next for Tampa Bay Buccaneers, how much would you bet Brady gets charged for his comments? How many hits would he take, and how many 'roughing the passer' calls will he get? Stay tuned to know more.