Tom Brady Deems Legendary Feat He Achieved As 'Impossible to Repeat' in NFL
Published 11/17/2021, 12:14 PM EST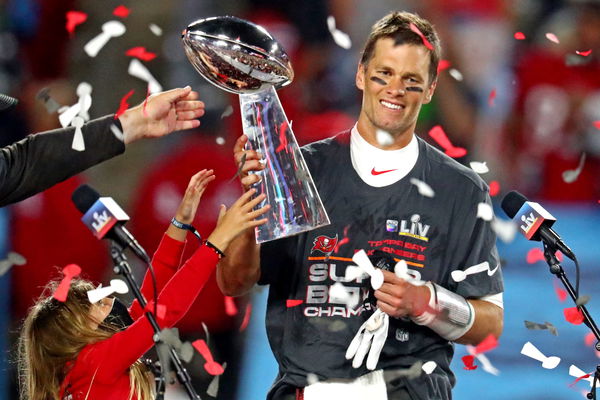 Tom Brady may arguably be the greatest player to have ever played in the NFL. From his physical attributes to his longevity to his mind-boggling NFL records, the Tampa Bay Buccaneers quarterback is a phenomenon in every sense of the word.
When you observe deeply, Tom Brady's career feels like completing GTA in real life. It looks like now all he needs to do is side missions. Despite his awe-inspiring career statistics, there is one record which he has not been able to break on a consistent basis. The former New England Patriots player has won the Super Bowl consecutively only once. In a recent interview, the Tampa Bay star explains why achieving this feat is one of the hardest in the game!
ADVERTISEMENT
Article continues below this ad
Tom Brady's Super Bowl Record
In Tom Brady's illustrious career, the quarterback has won the Super Bowl, a whopping seven times. Despite that, he has won back-to-back championships only once, which he achieved nearly 20 years ago with the New England Patriots.
While it must be acknowledged that Brady's Super Bowl record with the Patriots was simply amazing. Brady's postseason performances with the Patriots were nearly as stunning in his last years with the team. In his last years, he won three Super Bowls in five years. In fact, the Patriots would have been the only team in history to win three consecutive Super Bowls only if Brady had not succumbed to the Philadelphia Eagles in Super Bowl LII.
Tom Brady quarterback reveals why "it's so hard" to win the Lombardi Trophy consecutively
Tom Brady has a simple explanation as to why more teams dont end up winning the Lombardi Trophy consecutively. Speaking on his "Let's Go" podcast, the quarterback revealed the reason to be a mix of statistics and competition.
ADVERTISEMENT
Article continues below this ad
"Well, the number one [reason] it's so hard to repeat is that it's hard to win one Super Bowl," Brady said. "There's one of 32, and being second is the same as being 32nd. In the end, there's one team that everyone's going to remember from every season. So to win two of those back-to-back is extremely difficult."
ADVERTISEMENT
Article continues below this ad
Currently, just seven teams have ever won the Super Bowl in consecutive years. Tom Brady and the Buccaneers will try to make it eight in February, joining the Packers, Dolphins, Steelers, 49ers, Cowboys, Broncos, and Brady's Patriots as the only teams to do so. Will Brady & co be able to do it? Let us know!