Tom Brady Once Humiliated Drew Brees: "Tom is Out There Throwing With Brees' Kids. Kissing Babies. We Get Back to the Locker Room, Tom Goes, 'I Got His A**! Let's Go!"
Published 01/12/2022, 5:34 AM EST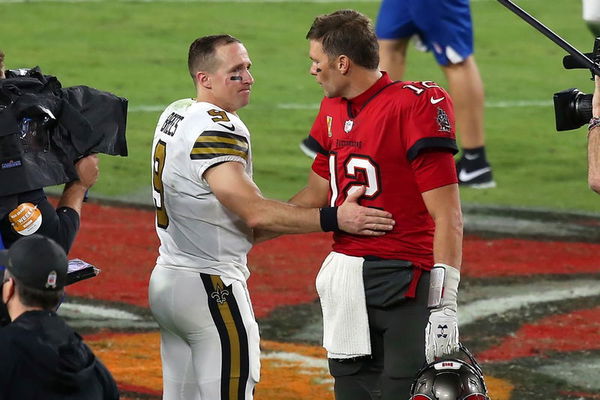 ---
---
Tom Brady is known for his competitiveness and his separation to win at all costs, especially against his arch-rivals like Peyton Manning and Drew Brees. Although his rivals have left Brady alone in the gridiron, but his spirit still dominates the league to this day. Yet it was way more fun to watch Brady go up against Brees.
ADVERTISEMENT
Article continues below this ad
Although Brees has claimed more wins in a head-to-head count, yet the final blow was given by Brady himself. It was just the previous season when the then six time Super Bowl champion was playing in the NFC South division for the first time in his career, and up against him was his arch rival Brees leading the invincible Saints.
ADVERTISEMENT
Article continues below this ad
Tampa Bay Buccaneers falling short of New Orleans Saints whole 2020 season
Heading towards the playoffs, the Saints clinched the division with a 12-4 record and claimed the No. 2 seed just below the Green Bay Packers. However the Tom Brady led Buccaneers made the playoffs with a 11-5 record. Out of those five losing games, two came against the Saints during the regular season, and the Bucs quarterback was looking for a chance to out perform Brees.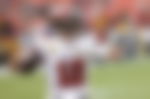 Brees was on his way to walk into the sunset with a tremendous last season with the franchise before he retired. But fate had other plans. The two sides met again in the Divisional Round, and there Brady had a chance to prove his dominance over Brees for one last time. And Brady took full advantage of it.
Tampa Bay Buccaneers downed the New Orleans Saints by 20-30 and progressed to the Conference Championship against the Green Bay Packers. That win meant so much more to the Bucs champion than anyone could even imagine.
Tom Brady humiliated Drew Brees after the win
Former Buccaneers wide receiver and two time Super Bowl winner LeSean McCoy was telling stories about his time with the Bucs. The conversation turned to the quarterback pretty soon. And that story was the most hilarious anecdote one could ever hear about him.
"Another one, right? This is a funny one," McCoy said about Brady and Brees. "We were playing the Saints, don't kill my, Tom. This is a funny one, right? So they beat us twice that year. Beat the sh*t out of us. They sweep us and then we meet in the playoffs. Everyone knows Drew Brees is retiring cause he wasn't the same, arm wasn't the same. We beat 'em."
ADVERTISEMENT
Article continues below this ad
"Tom is out there throwing with Brees' kids. Kissing babies," McCoy continued. "We get back to the locker room, Tom goes, 'I got his ass! Let's go! Sit his a*s down!' We were all like, 'ohhhh!'"
ADVERTISEMENT
Article continues below this ad
That was surely the moment of the season for Tom Brady, of course, besides Super Bowl LV. This story just implies how ruthless of a competitor Tom really is and that he can do pretty much anything under pressure. However, let's see if he makes a similar Super Bowl run this season.