Tampa Bay Buccaneers No Longer Favorites To Win The Super Bowl
Published 04/28/2020, 9:52 PM EDT
The Coronavirus pandemic impacted the 2020 NFL draft. However, teams made the most of it and put plugged a few holes in their roster from the comfort of their own homes. However, based on a Mad Bets video some teams saw their stock fall amongst bookmakers post the draft. 
Tampa Bay Buccaneers not the Superbowl favorites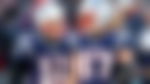 As per the video, the Tampa Bay Buccaneers were 9/1 to win the Super Bowl. This is because they traded for tight end Robert Gronkowski from The New England Patriots. The move reunited him with Tom Brady with whom he had won 3 Super Bowls. Tom Brady's arrival signaled a change in fortune as they saw a league icon replace Jameis Winston. 
ADVERTISEMENT
Article continues below this ad
Last season Winston threw for a league-leading 5,109 passing yards. He also threw 33 passing touchdowns. However, he set an unwanted record. Winston became the first quarterback to have a 30-30 statistic. Out of 30 interceptions thrown, 7 resulted in pick-sixes. Tom Brady would no doubt be an upgrade despite being 43 when the season kicks off. 
The Buccaneers needed tacklers to protect him. They traded up to sign Tristian Wirfs. The General Manager Jason Licht said, "we're just thrilled to death, that we got Tristian." 
Unfortunately, observers weren't thrilled with the picks to keep Brady safe. As a result, their post-draft their odds fell to 12/1. The Buccaneers were not alone as some other teams saw their stock fall. These include the NFL's most successful team.
ADVERTISEMENT
Article continues below this ad
Green Bay Packers traded up and gave away draft capital to sign Jordan Love. They went on to bolster a whole host of spots. However, they did not draft a single wide receiver which was considered to be their most important pre-draft requirement to help Aaron Rodgers.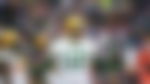 Their odds fell from 1600 to 2200. However, the team is happy with the pick as they seem to be building for the future rather than immediate success. 
ADVERTISEMENT
Article continues below this ad
The 2020 NFL season is set to begin in September pending the Coronavirus pandemic concerns. There is speculation that the season could see large scale changes. These include postponing the Super Bowl and canceling the Pro Bowl. 
Do you think either of these teams will defy the odds and make deep playoff runs probably culminating with Super Bowl glory?