'Roles Reversed': Mike Evans Earns Historical Achievement Courtesy of Tom Brady TD Pass
Published 11/23/2021, 5:25 AM EST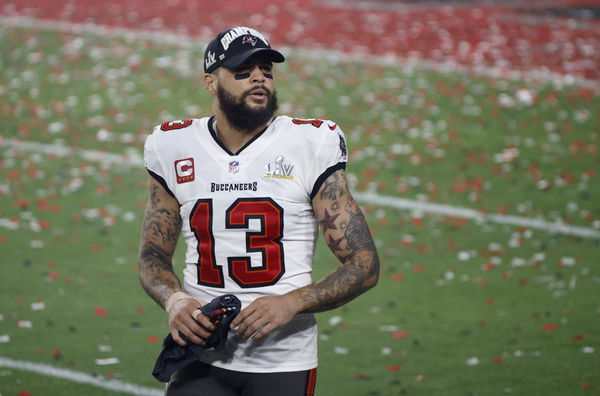 ---
---
The Buccaneers' fans will remember the Week 11 game at Raymond James Stadium with New York Giants for a long time. The match resulted in a dominating 10-30 win for Tampa Bay. Everyone played at the top of their game and the Bucs put on a masterclass with Tom Brady, Rob Gronkowski and Mike Evans running the show.
ADVERTISEMENT
Article continues below this ad
Two records were broken during the match. First by Tom Brady. He broke the record for the most seasons with 3000-yards, followed by the star wide receiver Mike Evans becoming the leading touchdown made in the history of Tampa Bay Buccaneers. 
Mike Evans makes history
ADVERTISEMENT
Article continues below this ad
On Monday, the Buccaneers played the Giants. During the third quarter, Tampa Bay was up by seven points and was on offense. The play started and Brady was just a couple yards behind the 10-yard line. Right then, he spotted Mike Evans in the end zone and threw the ball like a bullet. Right on target, Brady's pass found Evans for the touchdown. The Buccaneers bagged six more points after Mike Evans made his 72nd touchdown for the franchise. A-Train Mike Alstott previously held the record.
The 28-year-old already owns almost every receiving record there is for the Bucs. The fact that he's done it so young is really impressive. Mike Evans joined the Tampa Bay Buccaneers on June 12, 2014. It only took 7 years for him to become the greatest touchdown scorer in Tampa Bay. 
This is the newest addition to his already impressive club firsts for the Bucs. Evens holds the record for receiving yards, touchdown catches, receptions, and 100-yard receiving games. He also has many single-season records for receiving yards and touchdown catches. Evans is tied for the most touchdowns in a single season. 
Teammates react to Evans breaking the record
"He's amazing in every way as a player, teammate, friend, a leader. He's just awesome. So love being out there with him, playing with him. Really sets stone for that group." The legendary quarterback called Evans a great friend and an amazing player. He believes Evans deserves the record. 
ADVERTISEMENT
Article continues below this ad
"Mike's a beast," Says Rob Gronkowski, "Day in, and day out, just from the practice field into the game field. He's just a consistent player, and that's what it's all about." Mike Evans has the respect of his team, and it makes the Buccaneers unstoppable.
ADVERTISEMENT
Article continues below this ad
Mike Evans is a future NFL Hall of Famer for sure. He already has become a Tampa Bay Buccaneers living legend. Evans still has a lot of games left in him, and knows what other records he'll add to his name.