Tampa Bay Buccaneers Rookie Joe Tryon Risks the Wrath of Tom Brady
Published 05/04/2021, 4:09 PM EDT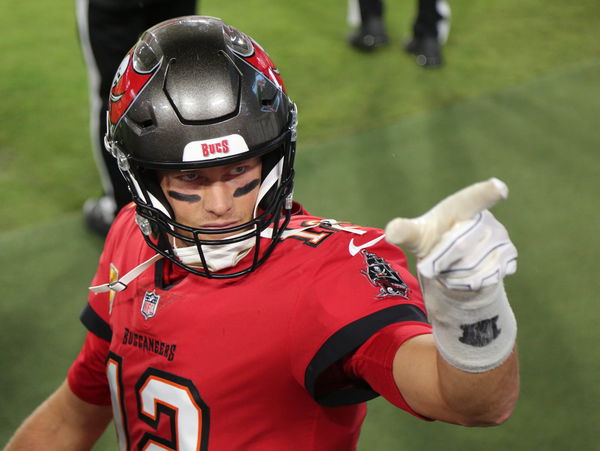 ---
---
Tom Brady and the Tampa Bay Buccaneers ended their 2020 NFL campaign on a high with a win in the Super Bowl LV finale against the Kansas City Chiefs.
ADVERTISEMENT
Article continues below this ad
The Bruce Arians-coached franchise registered a resounding 9-31 win over the Chiefs. Immediately after the win, Brady confirmed that he will return in 2021, hungry for his 8th ring.
Brady was in headlines all summer, for various reasons, of course. He appeared at a UFC event, traveled to Disney World and got drunk on the Super Bowl boat celebration, and tossed a Lombardi Trophy too.
ADVERTISEMENT
Article continues below this ad
The veteran quarterback seemed content after winning his 7th Championship ring. One thing that irked him though, was the NFL's decision to alter its jersey number rules.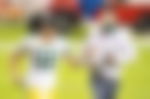 Will Tom Brady lash out at rookie OLB Joe Tryon over jersey number debate?
The former New England Patriots quarterback took to social media to express his disbelief over the latest development. League officials, in accordance with franchise owners, passed a rule change expanding available numbers.
The new regulations will allow running backs to include numbers 1–19 and 80–89, wide receivers 1–9 and 20–49, tight ends to 1–39, linebackers 1–39, and defensive backs 1–19. Brady was not in favor of this and made his concerns public instantly.
But now, a certain Tampa Bay Buccaneers rookie might be at the receiving end of the backlash as per NFL Network reports.
The 22-year-old Washington Huskies linebacker Joe Tryon was drafted by the reigning champions over the weekend. He was picked in the 1st round (32nd overall).
After wearing the number 9 during his time with the Huskies, Tryon will continue to wear the same number after signing with the Bucs.
ADVERTISEMENT
Article continues below this ad
The new change in NFL rules allows outside linebackers to wear single-digit numbers. Had he been selected as a defensive end, he would have been forced to take up numbers between 50-79 or 90-99.
Now, the youngster is set to become the first Buccaneers defensive player to don a single-digit jersey. We wonder how that will go down with Brady who has openly spoken out against this change.
The first week is going to be awkward for the youngster, we reckon.
ADVERTISEMENT
Article continues below this ad