'Screw It, Let's Go For It': Tom Brady Reveals His Thanksgiving Motto to Oprah Winfrey
Published 11/24/2021, 10:49 AM EST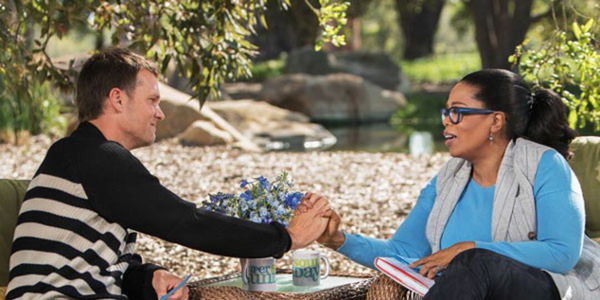 ---
---
Tom Brady is a big name to bear, and standing up to those expectations requires dedication, commitment, and a lot of sacrifices, even during festival times. Well, that is how a typical footballer celebrates Thanksgiving or any festival. But Tom Brady opens up about his plans for the day.
ADVERTISEMENT
Article continues below this ad
Even though Tampa Bay Buccaneers does not have a game on Thanksgiving Day, yet still he won't get a full day off. And so during an interview with Oprah Winfrey in the SiriusXM podcast "Let's Go! With Tom Brady, Larry Fitzgerald and Jim Gray," Brady talked about his Thanksgiving celebration in detail.
ADVERTISEMENT
Article continues below this ad
Tom Brady on his Thanksgiving celebration
"Thanksgiving there's a lot to be thankful for," Tom said. "But you only get about four hours to enjoy it. Practice usually ends about 1 or 2 pm, you eat about 3:30 and then you're getting ready for the next day of practice. And then same thing with Christmas."
As Brady started to talk about how little time he gets with his family, he starts to talk about how much he craves for it. This brings him to a point where he even talked about his retirement plans. "So, you know," he added. "I'm looking forward to the time when I'm done playing football so that I can have some of those more normal holidays that I had growing up that were important where the family's all together."
Brady thinks of retirement
Although it's not what many would want to hear, since his fans have hoped for him to play on forever. And since people see him as a God of football, he most certainly has human attributes, who would like to spend time with the people that matter to him the most, his family.
ADVERTISEMENT
Article continues below this ad
With that, the conversation shifted to the food. Tom Brady was asked what food would he like to have on Thanksgiving and his hilarious answer to the question will make you go ROFL. As he said, "Just like everyone else. That's the one meal where I'm like, screw it, let's go for it. And we all get to enjoy it."
ADVERTISEMENT
Article continues below this ad
After defeating the New York Giants, the quarterback most certainly needs a cheat day, as he has carried the team on top of the NFC South with an incredible 7-3 record. Furthermore, the Bucs will travel to Indianapolis for their next matchup against the 6-5 Colts in the Lucas Oil Stadium.