Tampa Bay Buccaneers to Shut Down Offices in Recognition of Juneteenth
Published 06/17/2020, 3:06 PM EDT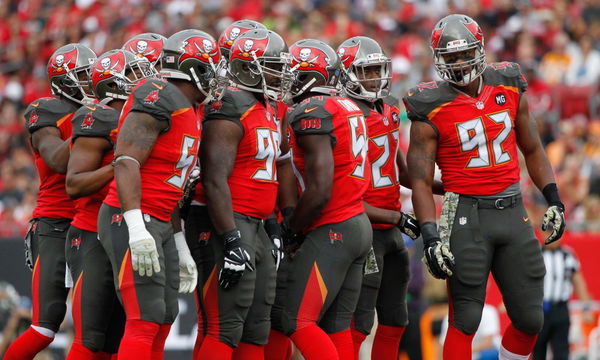 ---
---
On Friday, June 19th, the Tampa Bay Buccaneers will close down their offices for a day. Apparently, the move was in order to recognise the American holiday, Juneteenth.
ADVERTISEMENT
Article continues below this ad
The team tweeted, "We must be purposeful in our reflection, acknowledgement and efforts towards achieving collective change in society. As we work together in this process, we must re-examine all manner in which cultural inequities that have existed for centuries continue to impact race relations."
However, they are not the only ones to perform such an act. A few days ago, NFL Commissioner Roger Goodell announced that the NFL league offices will follow the same procedure.
ADVERTISEMENT
Article continues below this ad
What is Juneteenth and why have the Tampa Bay Buccaneers taken this step?
ADVERTISEMENT
Article continues below this ad
For the uninitiated, following the American Civil War, the country officially abolished slavery. On June 19th, 1865, all remaining slaves were declared free in the United States. This was nearly three years after President Lincoln's Emancipation Proclamation in 1862.
On that very day, Union general Gordon Granger read out federal orders in Texas. Those orders stated that all enslaved people in Texas were now officially free people. Admittedly, the Emancipation Proclamation formally freed the slaved nearly two-and-a-half years earlier.
Meanwhile, the American Civil War ended with the Confederate States' defeat in April. However, since Texas was the most remote of the slave states, they had not got the memo yet. Especially considering that Texas had a low presence of Union troops, so enforcement of the proclamation was slow and inconsistent.
ADVERTISEMENT
Article continues below this ad
More than a century down the line, Americans celebrate the end of one of the blackest spots in their history. The Juneteenth celebration serves as a reminder that the United States has to move forward. Suffice to say, the Tampa Bay Buccaneers elected to shut down their offices in recognition of this event.