Tom Brady Reacts Hilariously to his '11-Yard' First Down Run Against New York Giants
Published 11/23/2021, 2:52 AM EST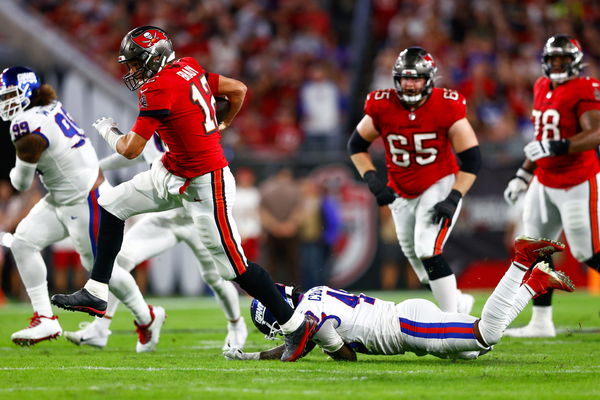 ---
---
Monday night's meeting between Tampa Bay Buccaneers and New York Giants was record-breaking. The 10-30 victory was special for one man in particular; the man, the myth, the legend, Tom Brady. Brady provided some perfect drives in the 307-yard game on week 11. His passes are the most important ingredient in a Buccaneers touchdown. 
ADVERTISEMENT
Article continues below this ad
Tom Brady, a runner?
ADVERTISEMENT
Article continues below this ad
It is no surprise that Tom Brady is one of the best quarterbacks of this generation. With every pass he makes, he proves that point. But can he run too? 
During the first minute of the second quarter against the Giants, we saw something incredible. The Buccaneers were third down to four. Brady saw an opening in the middle of the field and took it. He ran like a wide receiver rushing down the sidelines about to make a touchdown. After the run, the QB slid down like a soccer defender making a tackle.
Tom Terrific showed amazing athleticism and proved to everyone why he still deserves that nickname. The fans say, That the 44-year-old, GOAT has still got it, or perhaps he never lost it. Maybe it was the criticism by Scottie Pippen recently that fired Brady up. When a reporter asked how much he enjoyed the 10-yard run? Brady corrected him, "11* yard run. They don't really happen very often, so I do remember how far they go." Brady adds, "It was pretty good."
Brady's performance impresses Gronk
Brady's run impressed the Buccaneers' tight end and a legend in his own right. He was impressed with how still at 44, Brady's still going at it. The Gronk said, "I was kinda open on that play, going off to see him. I look back and said, 'why aren't I getting the ball?' and he's running with the ball." For Brady's amazing run, Gronkowski said, "Man, that's pretty dope. Yeah, he got a first down, that's what we needed. That was a good play by him." It is safe to assume that Tom Brady has the respect of his teammates as well.
ADVERTISEMENT
Article continues below this ad
Brady made another headline
ADVERTISEMENT
Article continues below this ad
After the amazing performance against the Giants, Tom Brady has surpassed the Pro Football Hall of Famer Brett Favre. Favre previously held the record for the most seasons in history with 3,000 passing yards. His record was 18 years. But Brady, after completing 307 yards last Monday, has broken Brett Favre's record. Tom has added one more record to his already impressive resume.