Tom Brady Reveals the Real Reason Behind His Frustration During Press Conference After Washington Humiliation
Published 11/18/2021, 10:23 AM EST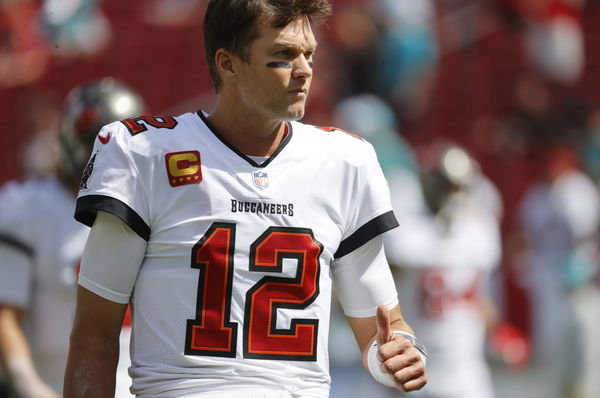 Tom Brady is arguably the greatest player to have ever graced the fields of NFL. Name any record or top 5 lists, and one man's name is certain to be there – Tom Brady.
While his on-field performances and longevity certainly make him amongst the best in the game, what makes people call him the G.O.A.T has been his professionalism. The Tampa Bay quarterback is known for his behavior, which is why his recent actions sent shock waves across the NFL.
ADVERTISEMENT
Article continues below this ad
"What else?" – Tom Brady gets angry with the media during the post match interview
Tampa Bay Buccaneers started this season on a roll, raking up five consecutive wins. Ever since then, they seem to have fallen off a cliff winning only 1 game in their last three matches.
After the frustrating 29-19 loss against the Washington Football club, the former New England Patriots quarterback was visibly upset. It almost felt like he was uninterested in giving an interview. Hence, he asked the reporters to be quick and replied in one liners.
Tom Brady's entire media availability lasted 1 minute, 43 seconds. You can hear @gregauman ask him to stay longer. I asked if he could take us through how he was feeling. "I like to win," he said. pic.twitter.com/DHXxvg021N

— JennaLaineESPN (@JennaLaineESPN) November 14, 2021
"Make it quick," Brady said post-game on Sunday. "We started with the ball. They came away with it," he said. He then tried walking off the podium before a reporter asked him to stay. "What else?" Brady asked. The GOAT was definitely p*ssed!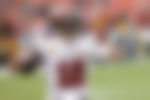 Tampa Bay Buccaneers Quarterback reveals the reason behind storming from the press conference
Tom Brady is as perfect a human can get but to be human is to err. After the loss against the Washington Football Club, the Tampa Bay Buccaneers quarterback was visibly frustrated. Speaking on his "Let's Go" podcast, the quarterback revealed the reason why he gave a cold shoulder to the media with a very relatable metaphor involving office-email-coffee.
ADVERTISEMENT
Article continues below this ad
"Press conferences after a loss are like co-workers emailing you before you've had your coffee… I mean I don't drink coffee, but I imagine that's what it's like.." he said
ADVERTISEMENT
Article continues below this ad
Even the GOAT has off days!