Antonio Brown Achieves Monumental Career Feat; Gives Credit To Tom Brady
Published 10/11/2021, 7:45 AM EDT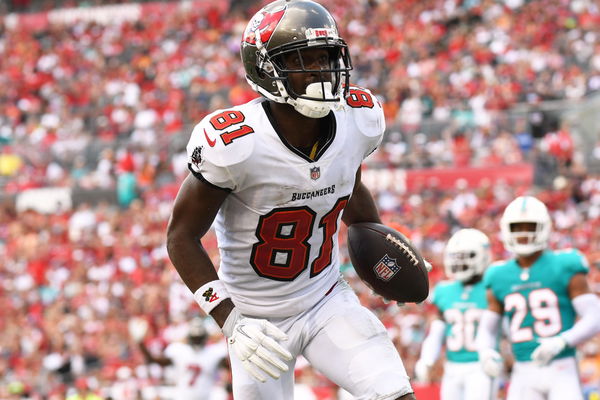 ---
---
Tampa Bay Buccaneers are on a streak of setting new NFL record highs, as after Tom Brady broke the NFL's passing yardage record last week, Antonio Brown stole the spotlight this week to become the fastest player to reach a new milestone of 900 catches in just 143 career games overtaking Pro Football Hall of Fame wideout Marvin Harrison.
ADVERTISEMENT
Article continues below this ad
It was an "amazing moment," for Brown, when during the first quarter of the game, he received a scintillating pass from Tom Brady leading to his phenomenal feat.
ADVERTISEMENT
Article continues below this ad
Tom Brady gives Antonio Brown his due credit
"That's something I'm really grateful for, but I couldn't have done it by myself," Brown said humbly. "Being able to play with some great quarterbacks — Ben Roethlisberger, Tom Brady — it's a blessing to play with guys like that."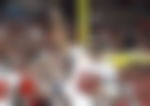 "Pretty amazing," Brady said. "I give him a lot of credit. He's been through a lot. Showed a lot of mental toughness, a lot of resilience. A lot of support from a lot of different people in his life at different times. Everyone just really wants him to succeed."
At the beginning of the second quarter, Brown's teammates and the Bucs' coaching staff shook hands and shared hugs with the wide receiver, congratulating him for his tremendous accomplishment.
ADVERTISEMENT
Article continues below this ad
Brown through thick and thin
"We all need to go through things to shape our purpose and make us better," Brown said alluding to his hardships in the past. "If we all just sit here and didn't ever go through anything, we wouldn't be able to appreciate life or we would never be able to grow. The things I went through, was able to prepare me to grow and make me a better person."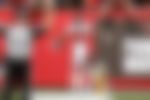 Although Brown could have reached the milestone much earlier, had he not been suspended for eight games in 2020. However, playing alongside the GOAT of NFL Brown covered up his missed matches to achieve this enormous feat.
ADVERTISEMENT
Article continues below this ad