'You Think These People Care If I Got CTE?': Antonio Brown Gives Brutal Answer to Question About Having CTE
Published 01/08/2022, 7:55 AM EST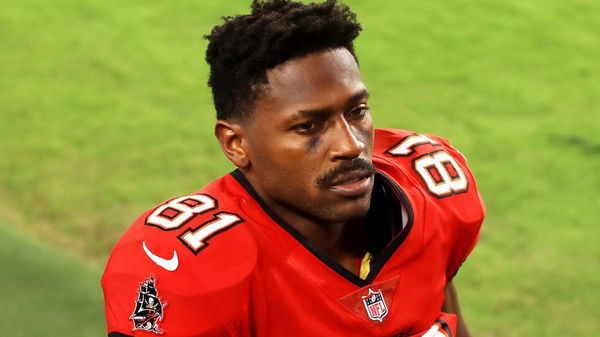 Antonio Brown made his first public appearance after making the most controversial exit of the season. He has been the talk of the NFL town for a week and people want to know more as to what went down behind the scenes. The NFL erupted after the absurd display by the receiver and most were left thinking if he was in fact insane, or may have been suffering from head trauma.
During his appearance at the "emergency episode" of the 'Full Send Podcast' AB opened up about a lot of things, making the talk show an overnight hit. One of the most interesting questions of the show was when Brown was asked what he thinks about people believing that he has CTE (Chronic Traumatic Encephalopathy).
ADVERTISEMENT
Article continues below this ad
Antonio Brown talks about CTE
According to Brown, people will always have something negative to say no matter "how you react or what you do." He says it's always about scrutinizing what one does in this world. Furthermore, he replied, "CTE, you can't scan a person for CTE 'til they're dead, first off… So how you going to say a player that's living in real-time, who putting up real stats, who's standing for real purposes, who's doing real things, got CTE?"
ADVERTISEMENT
Article continues below this ad
And as the talk started to unfurl, AB talked about how Vincent Jackson took blows to his head and died of CTE while playing for the Bucs. And yet the team cared little go get his story out in the public and bring awareness about CTE. Moreover, AB continued, "You think these people care about if I got CTE? Did you see them do anything for Vincent Jackson like they did for Demaryius Thomas? Did they put his number on the field?"
ADVERTISEMENT
Article continues below this ad
As go whether the wide receiver is really suffering from CTE cannot be known. But his opinions on many topics certainly spark the mind since there is a little reality of what AB wants to talk about. NFL has had many such cases where athletes have suffered brain trauma and is really a crisis in the sport for a long time now. And yet there has been very little awareness of the subject.