Taunting at the Bowl: Inactive Bengals Player in Flip-Flops Gets Flagged for Unsportsmanlike Conduct During Super Bowl LVI
Published 02/13/2022, 11:11 PM EST
By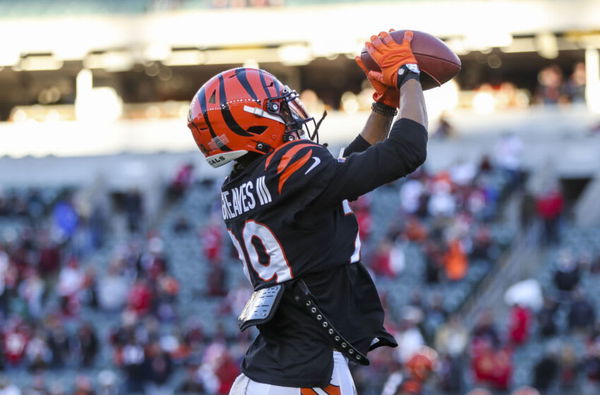 Cincinnati Bengals cornerback Vernon Hargreaves has been on the sidelines for three games now, following an ankle injury in the last game of the regular season. For the Super Bowl as well, he was out. But that didn't stop him from making an impact on the Super Bowl, albeit it wasn't one he would want to remember.
The Bengals had lost out on early momentum after going down 13-3 in the first half. Jessie Bates picking off Matt Stafford's throw in the end zone looked like a game-changing moment. Until a flag was thrown. Yes, it was non-uniformed cornerback Vernon Hargreaves who cost Bengals the penalty for unsportsmanlike conduct. It was the Bengal's first penalty of the game and probably the dumbest one ever.
ADVERTISEMENT
Article continues below this ad
He may be inactive for a while
Hargreaves ran to the end zone to celebrate with his teammates, jumping up and down wearing flip-flops and with a towel in his hand. The commentator's remark, "There he is. He comes off the bench, inactive. He may be inactive for a while after this scene."
The visual is what will hurt Hargreaves the most.
It is unclear what the Bengals have decided to do. But this might not be the top talking point from the game as the Cinderella run came to a disheartening end for the Bengals. The Bengals came so close to winning it all but ended up being too far. Burrow injuring his leg could also be a big factor in the outcome.
ADVERTISEMENT
Article continues below this ad
OBJ's injury in Super Bowl was crucial, but not defining
After OBJ's injury in the first half, the Rams' offence struggled. The struggle was real until Stafford forced-fed Cooper Kupp in the 4th quarter, resulting in a splendid touchdown down the field.
ADVERTISEMENT
Article continues below this ad
After that touchdown, defensive maestro Aaron Donald took it upon himself to put the Rams over the hump. It was an epic display of defensive prowess as the Rams did not let the Bengals anywhere near the end zone, winning Aaron Donald his first and very special, Super Bowl Ring.