Tennessee Titans Star Running Back Derrick Henry Wants To Bring Back Throwback Helmets, Jerseys
Published 04/10/2021, 10:30 AM EDT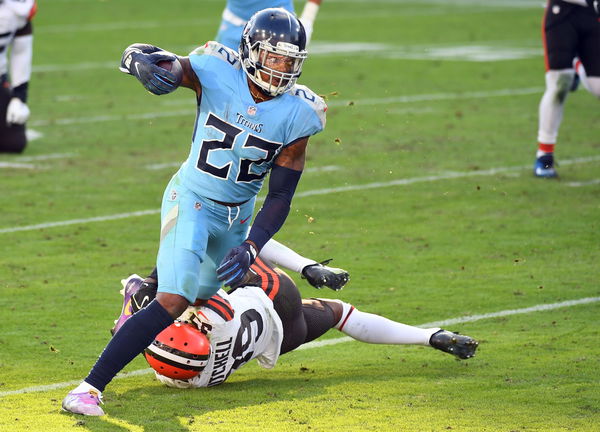 ---
---
Derrick Henry has been a star in the NFL for a couple of seasons now. The Heisman-winning running back drafted from Alabama had a rough start, but since 2018, Henry has taken off and not looked back.
ADVERTISEMENT
Article continues below this ad
With over 2,000 rushing yards, Derrick Henry was named the league's offensive player of the year in 2020. And averaging close to 130 yards a game, it's no wonder the running back claimed the award.
Now gearing up for 2021, Derrick Henry has taken to Twitter to share some of his desires heading into the next season.
ADVERTISEMENT
Article continues below this ad
Derrick Henry seeks a throwback special
According to reports, the NFL is considering changing the rules that will loosen the restriction on jersey numbers. This will allow defensive backs, linebackers, running backs, fullbacks, tight ends, H-backs and wide receivers to wear jerseys in the single digits. Something which they were previously not allowed to do.
The proposal will be put forward to team owners who will then vote on the matter. If the proposal does go through, it will allow running backs like Derrick Henry to wear single-digit jerseys as well.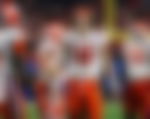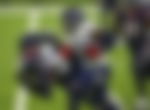 A key point to remember here is the Henry himself wore the #2 jersey for a certain period of time with Alabama. But instead of the kit number, the running back seeks the return of something else.
The Tennessee Titans player recently tweeted his appreciation for the possible loosening of jersey number restrictions. But it's the return of throwback kits and helmets that he's after.
"Single digits cool & all, but can we bring the throwback jerseys & helmets back? Somebody put in a request for that," he tweeted.
The use of throwback helmets was banned by the NFL back in 2013 when they made it mandatory to wear regular season helmets throughout the course of the season.
ADVERTISEMENT
Article continues below this ad
While the helmet can now only be modified by replacing the decals. This has led to many players and teams ditching the concept of throwback uniforms. This was done as many feel the jerseys don't complete the look without the helmets.
With that being said, there's no update on whether throwback helmets will be allowed back in the NFL anytime soon. But if they do, one can be sure that Derrick Henry is going to be first-in-line to wear one for a football game.
ADVERTISEMENT
Article continues below this ad