"Thanks For The Opportunity": Did Antonio Brown Say Goodbye to Tampa Bay Buccaneers on Instagram?
Published 01/03/2022, 10:14 AM EST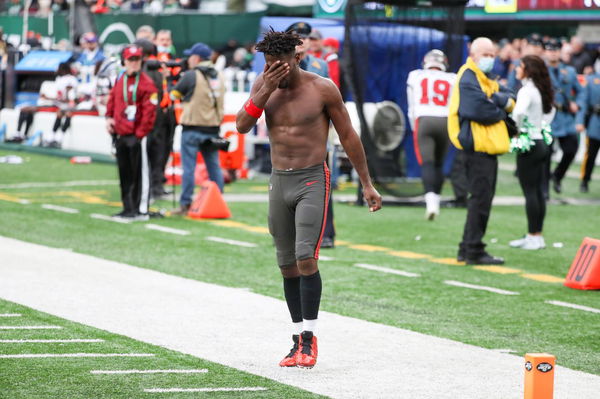 ---
---
People expected to see a classic game to open the new year with a bang. But thanks to the stunt pulled by Antonio Brown, everyone will remember this game for a different reason. Tom Brady ultimately won the game for his team with one of the best comebacks of the season, but Antonio walking out made more headlines.
ADVERTISEMENT
Article continues below this ad
The Buccaneers stood and watched their wide receiver abruptly walk off the field. If this was an effort to be kicked out of the team, Brown has been successful. The Buccaneers head coach has made it clear that Antonio Brown is no longer a Buc. Antonio Brown seems to have embraced this comment on his Instagram.
ADVERTISEMENT
Article continues below this ad
Antonio Brown addresses the situation on Instagram
In the middle of the third quarter, Antonio took his jersey off and left it in the stands. Then he proceeded to take off his gloves and undershirt. He threw those things in the crowd and walked off the field. Both the teams stopped and watched Brown take off. 
 

View this post on Instagram

 
After leaving the Buccaneers high and dry, Antonio took it to Instagram to give us an update. On his official Instagram account, he uploaded a picture. The picture was of him in a Tampa Bay Buccaneers' uniform and helmet. Brown put a caption on the post. He wrote, "Big MAD (Making A Difference)" Antonio then added, "Thanks for the opportunity." Does this mean that Antonio Brown is saying goodbye to the Buccaneers? 
Tampa Bay Buccaneers react to the incident
ADVERTISEMENT
Article continues below this ad
The moment was very embarrassing for the Bucs. They are on their way to hopefully winning the Super Bowl again this year. But after the antics of Brown, some players have come out and addressed the situation publicly. Tom Brady during the post-match interview said that Brown is a good friend, and he hopes the WR gets some help soon.
ADVERTISEMENT
Article continues below this ad
Bruce Arians have straight-up declared that Brown is no longer a part of the Buccaneers. But one of the Tampa Bay Buccaneers players had something different to say. Le'Veon Bell, the newest addition to the squad, commented on Brown's Instagram post. He wrote, "(goat emoji) Idc what anyone says." Is Le'Veon Bell trying to follow Tom Brady's advice and support Antonio Brown? Football is a team sport, but will it work if it is one-sided? Should Antonio Brown have left the Bucs and the team the way he did?