'That Dude is Special Like Aaron Rodgers'- Former NFL QB compares Zach Wilson to MVP
Published 03/16/2021, 1:56 PM EDT
---
---
Aaron Rodgers is one of the best players in the history of the NFL. The reigning MVP has been one of the most mercurial talents to enter the NFL in the past few decades.
ADVERTISEMENT
Article continues below this ad
Despite him having a few stumbling blocks in the past few years, he still endures as one of the premier talents in the NFL. But one former quarterback believes that this draft prospect could be the next Rodgers.
Former NFL quarterback David Pollack spoke about prospects from this year's draft class. He believes that Zach Wilson is very similar to Rodgers.
ADVERTISEMENT
Article continues below this ad
He pointed to his excellent completion percentage during his time with BYU. Furthermore, he revealed that the percentage was the highest ever in college football history since the stat was recorded.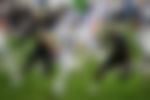 "You see, Aaron Rodgers. And I know that sounds crazy when you hear that, but he completed 62% of passes downfield. Best ever since ESPN's recorded that stat. He drops the ball in the bucket, off-platform, sidearm angle but he elevated around him at BYU."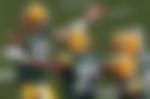 Zach Wilson- The next Aaron Rodgers?
Pollack added that unlike Justin Fields, who had an excellent system around him, Wilson was able to make people around him look and play better than they can.
Wilson's passing range and playmaking ability are exceptional, especially given the performances BYU had this year. He reminds Pollack of a young Aaron Rodgers in the way that he plays.
"He wasn't Justin Fields playing with all these freak show wide receivers and one of the best play-callers in football. He could make everything look good.
ADVERTISEMENT
Article continues below this ad
"And the way he threw the deep ball and dropped some of those passes, you just go, 'That dude is special like Aaron Rodgers'."
Can Zach Wilson be the next Aaron Rodgers? He is one of the most highly touted prospects going into this year's NFL Draft. Many teams will enter the draft this season with the idea of getting a high-quality quarterback.
And Wilson is one of the best quarterback prospects in his class. But his success will depend greatly on which team decides to draft him this year.
ADVERTISEMENT
Article continues below this ad