'That Got Us a Little Nervous' – Aaron Rodgers Trade Saga Had NFL Schedule Makers in a Limbo
Published 05/17/2021, 9:04 AM EDT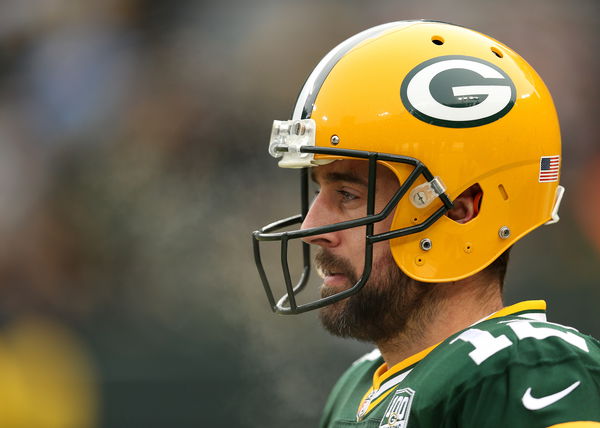 ---
---
On draft day this year, the NFL was hit by a storm one predictably saw coming from a mile away. Aaron Rodgers wanted out of Green Bay.  
ADVERTISEMENT
Article continues below this ad
Reports of Rodgers' disenchantment with the franchise emerged hours before the 2021 NFL Draft took place. And since then very light progress has made from both camps. 
While the Green Bay Packers have maintained that it is not going to trade the QB, Aaron Rodgers himself is yet to make a statement about the situation. 
ADVERTISEMENT
Article continues below this ad This of course has been coming. The QB is understandably miffed at the franchise for not doing enough to show their commitment to the star QB.
The franchise had drafted QB Jordan Love in the first round of the 2020 NFL Draft to Rodgers. But Aaron Rodgers instead rolled back the years to pull off an MVP season. 
Packers fans have been sweating it out given the uncertainty surrounding the future of their franchise QB. But it looks like the situation regarding Rodgers had the NFL schedule makers scratching their heads as well. 
Aaron Rodgers impacting NFL schedules as well
According to a report by ProFootballTalk, NFL insider Peter King talked to Howard Katz, Senior VP of NFL broadcasting. And it was during this conversation that the two talked about how the Rodgers-Packers saga impacted the 2021 NFL schedule. 
READ MORE – 'I Would' – Former Patriots Player Backs Tom Brady's Wish to Trade Two Super Bowls for the Perfect Season
"That got us a little nervous," Katz said. Despite the uncertainty surrounding Rodgers, the Packers are set to kick off their 2021 campaign against the New Orleans Saints at the Mercedes-Benz Superdome. 
"The Green Bay Packers are still the Green Bay Packers, with or without Aaron Rodgers," Katz said. "They're a great team and a great brand. We started to think about some of the permutations of the schedule."
ADVERTISEMENT
Article continues below this ad
Given that there is yet to be any significant development in a trade move for Rodgers, Katz said that the league is looking to maximize the most out of the Packers games early on in the season. 
"Ultimately, when he didn't get traded, we couldn't solve for something we didn't know. It was pretty deliberate the way we maxed out the Packers early in the season… That was deliberate."
READ MORE – NFL Analyst Paints a Nightmare Scenario for Green Bay Packers in Week 1 Clash Versus the Saints
ADVERTISEMENT
Article continues below this ad
With the Packers taking on the Saints to start off their new campaign, who do you think will line up under centre for the Packers come Week 1?