"That Was Brutal" – Chiefs Coach Andy Reid Laments Face-Shield Struggles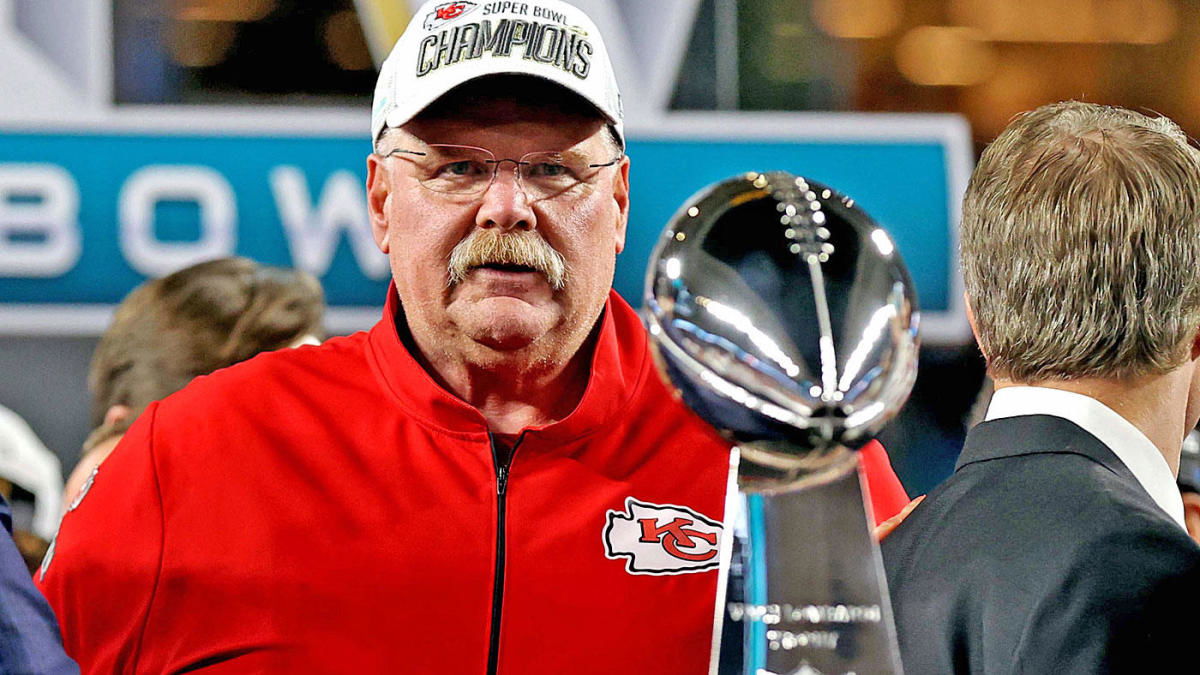 Kansas City Chiefs started their title defense on a shaky note as they fell behind Deshaun Watson-led Houston Texans by 0-7 scoreline in the first quarter of Thursday's opener. However, head coach Andy Reid helped orchestrate another memorable comeback as the Chiefs ultimately went on to win by a 34-20 margin.
Patrick Mahomes, Travis Kelce, Tyreek Hill were once again phenomenal last night. But a new star emerged in Missouri in the form of rookie running back, Clyde Edwards-Helaire. The former LSU man made a record-breaking NFL debut and also completed his first career rushing TD in the league.
Despite his impressive displays, the highlight of the game was arguably coach Andy Reid's unusual 'face-shield'.
ALSO READ – Ryan Clark Comments on Cam Newton and His 'Impossible' Task of Replacing Tom Brady
Kansas City Chiefs head coach Andy Reid suffers a 'foggy' outing in Missouri
Andy Reid showing off this year by outcoaching the rest of the NFL without actually being able to see the field pic.twitter.com/v9FoDNZPKL

— Rodger Sherman (@rodger) September 11, 2020
As seen in the picture above, coach Reid definitely faced some issues on opening day at the Arrowhead Stadium in Missouri. The Super Bowl-winning coach was seen struggling with his 'fogged up' face shield towards the end of the game. The Chiefs were lucky that their boss could still analyze plays on the field and make some good calls in the fourth quarter.
"That was brutal. I didn't do very good with that thing. It will be better the next time. I appreciate you asking that, though. It was a bit of a mess, but we'll get it fixed," he added courtesy of Reuters.
Here is how Twitter reacted to Reid's hilarious face-shield tragedy from Thursday night.
Andy Reid forgot to hit the defrost button😂 pic.twitter.com/UHvBo7lqpH

— Stadium (@Stadium) September 11, 2020
Andy Reid's view of the field. pic.twitter.com/HpAGToii4B

— 20 Dollar Chef (@ShaunLatham) September 11, 2020
Andy Reid watching that last touchdown pic.twitter.com/4CYaAdexTf

— Barstool Sports (@barstoolsports) September 11, 2020
Kansas City Chiefs continue their 2020 NFL campaign with a clash against Los Angeles Chargers away from home. The Chiefs will hope to make it two-wins-two this year. Patrick Mahomes, Travis Kelce, and Clyde Edwards-Helaire will be in the thick of things when they play the Chargers next week. Let's hope coach Reid figures out a way by then to call plays while wearing his 'foggy' face shield in LA.
ALSO READ – NFL Analyst Takes a Cheeky Dig on Browns Stars Odell Beckham Jr. and Baker Mayfield