"That's a Bold Choice By Tom Brady": Married to a Fashion Icon, 45-Year-Old Phenom's Backwards Hat Gets a Hilarious Reaction From Legendary Football Insider
Published 09/24/2022, 11:15 AM EDT

Follow Us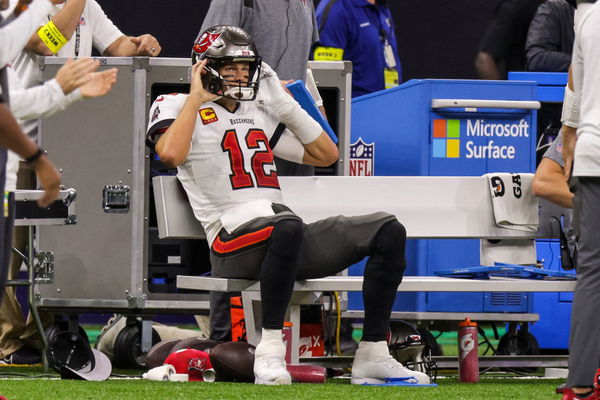 Everyone knows NFL legend and Tampa Bay Buccaneers star quarterback, Tom Brady, for three things. His exceptional football skills, rumors about his marriage, and his health. Tom Brady's "TB12 Method," shares in detail the unique and carefully planned diet that lets him achieve "peak performance" on the field, even at 45. But, his recent appearance has left fans confused and worried. 
Brady's interview before the Saints game is where everything kicks off. His weak appearance and his "backward hat" style that he appears in became the talk of the town. Although he seemed to show no symptoms or weakness during the interview, fans were quick enough to pick up on his gaunt face. Added to that, he repeated the same "backward hat" style in the press conference yesterday, which turned quite a few eyeballs his way.
ADVERTISEMENT
Article continues below this ad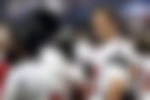 On the show, Pro Football Talk, NFL Insider, Mike Florio, took a dig at Brady. He said, "I am no fashion expert, but I will say the backward hat, with the tuft of hair carefully manicured through the hole at age 45. That's a bold choice by Tom Brady."
Although there are obviously few concerns among fans, the majority took to Twitter to poke fun at him, as usual. 
No, his wife is leaving him because 48274 seasons of football wasn't enough 🥴

— Simplyy_Stardust (@__higher__vibes) September 17, 2022
That story about him and Giselle is a story they planted to distract everyone from his plastic surgery

— rusty shackleford (@thegoat257) September 17, 2022
He looks like Christian Bale preparing to film The Machinist.

— KateJK (@KayQuiz) September 18, 2022
Tom Brady vs Aaron Rodgers: Will the Bucs secure another win over the Packers in the Brady era?
ADVERTISEMENT
Article continues below this ad
During the press conference, Brady spoke at length about locking horns with Aaron Rodgers, the Green Bay Packers quarterback and resident legend. "He's an amazing player, has been for a long time so, I love watching him play, and uh you know he's from California too, so I feel like we always have a little bit of a connection," he said.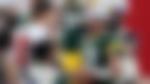 Brady is the newest addition to the Bucs' injury list but is expected to start in the Bucs' first home game of the season. Brady sustained his injury in the 20-10 win over the Saints, where he recreated another famous moment: throwing his tablet. But apart from a few discomforts during practice, there is no report of a major injury sustained.
ADVERTISEMENT
Article continues below this ad
Watch This Story: In an illustrious 23-year career, Tom Brady faced Aaron Rodgers several times but who came out on top?
This is an immense relief for Bucs fans as they are already suffering from the one-game suspension of Mike Evans. And with fresh signing Cole Beasley getting to terms with Brady and the Bucs' plays, Monday's clash will be one worth watching.
Edited By: Vibhanshu Kumar