"That's Exactly Why They Still Have Hundreds of Millions in the Bank…": Eli Manning's Cheeky Picture With Brother Peyton Manning Sparks Up Twitter Debates & Hilarious Takes
Published 06/23/2022, 6:16 AM EDT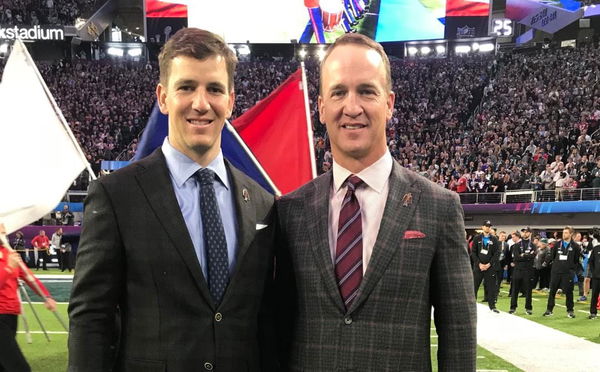 Eli Manning has been having a blast ever since he made his debut in the social media sphere. There's not a tweet that has ever disappointed his followers. The trend seems to continue, as his recent tweet with his brother Peyton becomes a sensation, and fans are having fun with it.
Peyton and Eli Manning are among the most prominent names in the National Football League. Even though they are now out of any on-field action, they have been living the best course as television broadcast personalities.
ADVERTISEMENT
Article continues below this ad
Giants legend Eli Manning is having a series on the social media platform where he shares pictures of famous personalities he meets. This time, he bumps into a household celebrity, Hall of Fame quarterback Peyton Manning.
The caption mentions, "I'm on a roll. I ran into another football player today." The image features the Manning Bros in their iconic checkered shirts and all smiles for the picture.
Twitter users have fun over Manning's photograph
The users on the platform are having an absolute fest of glee over the photograph, each coming up with a hilarious quip.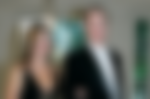 One user believes they have millions in their banks, but they still do their shopping from Kohls.
That's exactly why they still have hundreds of millions in the bank….

— JSH1977 (@JSH865) June 22, 2022
Another user asks Eli if he told about the time he beat Tom Brady. Not once, but twice.
did you tell him about that time that you beat Tom Brady

— C. Huff (@Chris_Huff) June 22, 2022
A user calls out Twitterati's hate comments towards the Mannings. He claims users are jealous as Peyton is number 1, and Eli lies in the top 10.
People just be hating on them for nothing. About there clothes. Or forehead. Or who's better. Like damn y'all really that jealous that Peyton's number 1 and Eli is top 10

— Thyler Willson (@ThylerW) June 22, 2022
Moreover, a user claims the Mannings are all about postseason action, and another gives his super cold take.
I don't know🤔 2 Superbowls in 4 trips sounds just like he's about that postseason action… that super🥶 take

— Nick Rosalia (@lil_nicky24) June 22, 2022
Another user pulls out an awesomely hilarious moment of Peyton's recent college event visit.
A user gives reasons behind why Eli is the Best Manning.
@GB62
Good lord. We all know you were the better QB. he beat the Bears lol and the defense beat Carolina saving his arm from falling off. ELI the best Manning

— Mucky (@betojefa) June 22, 2022
Moreover, a user calls the Manning Bros to look like accountants.
just two guys who look like accountants but happen to be first ballot HOF quarterbacks

— 𝕝𝕠𝕔𝕜𝕕𝕠𝕨𝕟 (@vvlockdown) June 22, 2022
Furthermore, a user calculates the likelihood of both having the exact shirt the other is wearing in their closet.
What are the chances each of you has the exact shirt the other one is wearing hanging in your closet.

— Mark Blutman (@BlutmanMark) June 22, 2022
Eli Manning trolls Peyton during a college event
ADVERTISEMENT
Article continues below this ad
It's been a busy time for the Manning Brothers. Especially for Peyton, who was filming for 'Peyton's Places.' As he was filming a baseball segment, Elder Manning was probably present for Ole Miss' 5-1 triumph over Auburn.
ADVERTISEMENT
Article continues below this ad
Ole Miss used former Giants quarterback Eli Manning's name to make a light joke about him when they emphasized his enrollment on the jumbotron. "Peyton Manning, Eli Manning's brother," read the display board. Eli loved that and sent out a tweet of approval.