"He Was Just Doing His Job": NFL World Miffed as Bills Star Stefon Diggs Tangles With Police to Enter Damar Hamlin's Hospital Room
Published 01/03/2023, 10:00 AM EST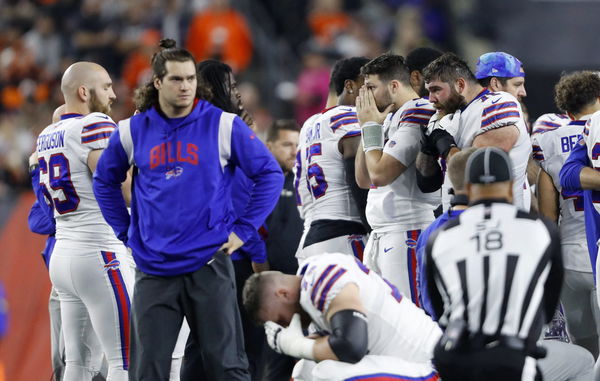 The Buffalo Bills and Cincinnati Bengals game witnessed tragic scenes on Monday night as Damar Hamlin collapsed on the field after a collision. The Bills' safety required CPR and transferred to the UC Medical Center, where his condition remains critical. And the tensions inside the Bills camp are rising as teammate Stefon Diggs got into a debacle with a cop after the game.
When wide receiver Stefon Diggs went to the hospital to see his teammate, after the incident, he met some unlikely obstructions. Moreover, the Damar Hamlin incident was a high-profile medical emergency. And understandably, the hospital had a swarm of police officers to ensure smooth running. One of them, in a moment of hurried response, didn't recognize Diggs and blocked his entry to visit Hamlin inside.
ALSO READ: 'Game Is Secondary': Paige Spiranac Joins Millions of Fans To Pray for Damar Hamlin Following His Unfortunate Injury
ADVERTISEMENT
Article continues below this ad
According to the official Twitter statement from NFL reporter Ari Meirov, Diggs had to explain to the cop who he was. ESPN reporter Coley Harvey was present at the scene. And he told the officer that this, in fact, was the Bills' wide receiver. After that, the cop let Stefon into the building. However, it divided fans in their reactions, as the circumstances were beyond tense and unusual.
That cop should hand over his badge, totally unacceptable

— JaydenBlue18 (@JayydenBlue18) January 3, 2023
It's not the cop's fault. He was just doing his job. He should be praised for letting Diggs in after learning he was a teammate. Not every cop would do that.

— Pray for Damar Hamlin🙏 (@iTsRoboWasTaken) January 3, 2023
Everyone sayin L cop, dude could of just been doin his job, learned it was diggs, then let him in

— big eddie (@iloveryanpoles) January 3, 2023
Most unneeded tweet. Could of been said without trying to bury a cop for doing his job. I wouldn't be able to pick diggs from a line up. Not everyone's life revolves around knowing players or celebrities. Cop was just doing his job. Keeping people out so medical can do their jobs

— Carlos (@CarlosRen1776) January 3, 2023
Love Diggs. Loved him as a Vikings even tho he's now a Bills player. Always has the biggest heart regardless!

— Janey Rose (@deejayjaney) January 3, 2023
what a guy. great teamate and better person

— anthony naselli (@anthony_naselli) January 3, 2023
Alright. Coverage needs to end. Give them privacy and just keep us updated on Damar. 🙏🏼

— The Replay (@TheReplay9) January 3, 2023
However, the fans showed a unanimous love for Hamlin's teammate and former Minnesota Vikings wideout Stefon Diggs. And Diggs was in tears along with the entire team at Paycor Stadium on Monday Night Football.
Diggs was not too pleased with the stoppage to see Damar Hamlin
ADVERTISEMENT
Article continues below this ad
According to ESPN's Coley Harvey, Stefon Diggs was visibly upset and borderline frustrated with the police officer stopping him. "This is my teammate. I have to be there for my teammate. It's just so frustrating right now. We just want to know what the news is," Diggs told the police officer before being let in.
Moreover, Damar needed CPR before heading over to the University of Cincinnati Medical Center. Also, some positive news emerged from one of Hamlin's closest friends, Jordan Rooney. According to NFL Insider Ian Rapoport's tweet, Damar's vitals were gradually coming back to normal. However, Hamlin remains intubated for breathing support.
ADVERTISEMENT
Article continues below this ad
WATCH THIS STORY: After overtaking Joe Burrow Josh Allen and Jalen Hurts Chiefs hero Patrick Mahomes remains betting favorite for MVP
Josh Allen and Bengals QB Joe Burrow were both shocked and teary-eyed after the cardiac arrest happened. Damar stood up after the collision with Tee Higgins. However, he collapsed immediately after. And the entire NFL world poured in their prayers and wished for the 24-year-old's recovery.