The Day When an NFL HOFer 'Mooned' The Green Bay Packers & Brett Favre Threw A Pick Party For Vikings
Published 05/24/2022, 9:00 AM EDT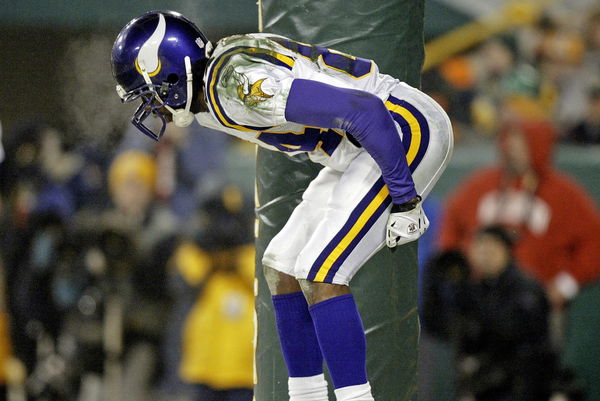 2004 was a very different time in the NFL. Tom Brady had only won two Super Bowl rings. The Manning brothers were dominating the league. And the legendary Brett Favre was the number one quarterback for the Green Bay Packers. Being the best of the best in Wisconsin, there were days he couldn't deliver to the elite level. One of his worst playoffs performance was overshadowed by the most iconic butt in the history of the NFL. 
In 2004, the Packers met the Minnesota Vikings in the wild card round. The name of the round is ironic because the game was nothing short of wild. 
ADVERTISEMENT
Article continues below this ad
Randy Moss's butt takes attention away from the terrible performance of Brett Favre
During the 2004 season, the Green Bay Packers were unstoppable. They were coming off back-to-back first-place finishes in the NFC North division. The team had a lot to prove in the postseason that year. Until that point, they only had two playoff wins after their previous Super Bowl appearance. But the wild card round against Minnesota would be another crushing defeat.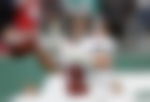 The day was January 9, 2005. The Green Bay Packers hosted the Minnesota Vikings on Lambeau Field. The Packers were confident heading into the match-up. They just wrapped up a dominating season under Brett Favre calling the attack. The Vikings, on the other hand, seemed to be lucky to even be in the playoffs. They lost seven of their 10 regular-season games. Minnesota lost both their previous game to the Packers.
ADVERTISEMENT
Article continues below this ad
The wild card round would tell a different story altogether. It seems like the Packers' legendary quarterback was not on the top of his game. He was missing passes left and right. Favre was also intercepted multiple times that night. The Packers' confidence soon turned into worries. Because they were behind 17-0 after the first quarter. 
It's been 16 years since Randy Moss pretended to moon Packers fans at Lambeau field.

He said he was going to pay his fine in "straight cash homie." pic.twitter.com/yUWiPy2AEU

— SportsCenter (@SportsCenter) January 9, 2021
ADVERTISEMENT
Article continues below this ad
The fourth quarter was the highlight of the night. Hall of Famer Randy Moss caught a 34-yard pass and scored a touchdown to give his team a 31–17 lead. While celebrating Moss pretended to take off his pants and mooned the Packers fans. The moment became so infamous that we are still talking about it to this day. It saved Brett Favre from harsh criticism after the game for his terrible performance. But overall, Randy Moss gave us a memorable moment.
Watch This Story: Quarterback Sensation Josh Allen Bluntly Warns Vets Tom Brady & Aaron Rodgers Ahead Of 'The Match'