'The Divorce Is Coming Sooner Than Later' – NFL Analyst Feels Green Bay Packers – Aaron Rodgers Chapter on Its Final Legs
Published 04/03/2021, 7:46 AM EDT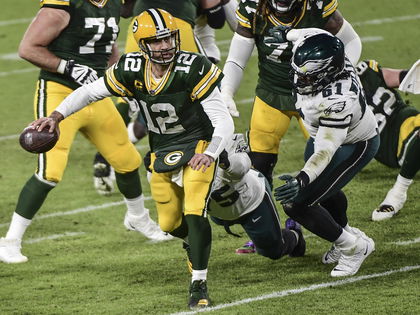 ---
---
Aaron Rodgers has been a Packer for life. So far. The quarterback drafted by the Green Bay Packers franchise back in 2005 has become an icon at Lambeau Field. 
ADVERTISEMENT
Article continues below this ad
From bringing back the Super Bowl, to winning multiple MVP titles, Aaron Rodgers has won all that there is to win. Not 37, the QB though is showing no signs of slowing down. 
He won the regular-season MVP in 2020 and took his side to the NFC title round where they'd lose to eventual Super Bowl LV champions, the Tampa Bay Buccaneers. 
ADVERTISEMENT
Article continues below this ad
But despite his recent successes the Green Bay Packers don't seem to convinced with Aaron Rodgers. At least, their actions suggest so.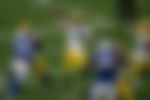 The franchise has reworked several key contracts in the offseason to relieve some much-needed cap space. But one contract they haven't touched upon is that of Aaron Rodgers. 
Restructuring contracts help teams save money by spreading the cap hit across multiple years of a contract. Doing this is also a sign of commitment to the player's future.  
The Packers though don't seem too keen to do that with Aaron Rodgers. And Aaron Rodgers is well aware of that.
Is there a future at Green Bay for Aaron Rodgers?  
Recently, Rodgers was once again asked about his future with the franchise. And the quarterback didn't deliver any concrete answer. When asked whether he wants to remain a Packers for life, the quarterback said that not everything is in his hands. 
With there seemingly being resolve for this contract saga, NFL analyst Field Yates suggested that Aaron Rodgers must decide whether or not he wants to leave the franchise or eventually be pushed out.
"If you're Aaron Rogers, incredible quarterback, brought another Super Bowl, have brought multiple MVPs to Green Bay. Are you going to want to, if you are eventually going to have to play elsewhere, besides Green Bay," Yates said during a segment of NFL Live.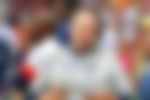 "Are you going to want it to be when the Packers tell you it's time to go because they're ready to turn the page on to Jordan love? Or might you be more inclined to force the issue yourself and say, 'You know what, I'm too darn good to have to worry about being a year-in, year-out quarterback," he added.
ADVERTISEMENT
Article continues below this ad
Yates suggested that given the non-definitive answers coming from both camps, it's only a matter of when not if the parting takes place.
"I know he wants assurances… But at some point these non-answers and these non-definitive answers, make me think more and more that the divorce is coming sooner rather than later," said Yates.
Do you feel Aaron Rodgers is going to stay at Green Bay beyond 2021? Or do you feel Jordan Love will be the franchise's playcaller come the turn of the year?
ADVERTISEMENT
Article continues below this ad
ALSO READ – 'Complete Quarterback' – Bears GM Heaps Praise on First-Choice Starter Andy Dalton