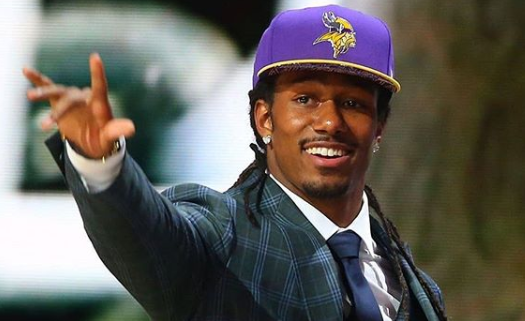 It's been a long offseason for NFL cornerback Trae Waynes. The Former Michigan State man ended his four-year stint with Minnesota Vikings earlier this year.
There were reports that he agreed to a three-year contract with Cincinnati Bengals worth $42 million in March. However, he has not put pen to paper on the deal yet.
The Bengals are adamant that they won't sign Waynes till he clears a physical with the team's medical personnel. The COVID-19 situation has caused several delays for the veteran NFL star as his wait for an official contract signing persists.
Trae Waynes grows restless as he waits to sign Cincinnati Bengals contract
Former Minnesota Vikings man, Trae Waynes spoke on the Behind The Mask podcast recently. The NFL Cornerback opened up on his delayed contract issues with the Bengals.
"That sh–'s terrible. It's still going on for me. I signed here, but I ain't really sign here. It was cool at first. I'm thinking it'll be done and over with. Ninety percent of the league, it's done for them.
"I know Cincy and a couple of other teams, they still ain't pay nobody or let them take their physicals, so it's technically still going on," Waynes said.
While speaking on the podcast, Waynes further spoke about how it is tough for him to prepare for the 2020 season due to his contract situation.
"How am I supposed to make myself better, without being able to push myself the way I want to push myself to have success? For me, the free-agent thing, it was cool, I was excited for it, but it's been a (expletive) headache since it really started," Waynes added.
As per current NFL protocols, player physicals will be conducted before training camp. The date for the physical is July 28, 2020. Waynes will have to wait until then to get his contract situation with the Bengals sorted.
Bengals OC Josh Callahan talks Joe Burrow and other pre-season hurdles
Brian Callahan is eager to start training with NFL number one draft pick Joe Burrow. "You can evaluate his personality, his work ethic, his confidence. But we haven't evaluated anything physically.
Joe Burrow and Tee Higgins could ultimately make the Bengals offense a mix between the Kansas City Chiefs and San Francisco 49ers.https://t.co/6VJOl4Yci3 pic.twitter.com/2Xy9JrYweV

— 247Sports (@247Sports) July 5, 2020
"It's a historic offseason in that regard with a rookie quarterback having no actual reps from the time he got drafted until the time the season starts. It's going to be a challenge for us," Callahan told the Bengals' official website.
The LSU man arrives in Cincinnati with high expectations. Will the 'next big thing' lead the Bengals to a Super Bowl Trophy?
ALSO READ- "We'll find out who he is" – Cincinnati Bengals Offensive Coordinator Gives a Fitting Response of Joe Burrow's Comparison with Patrick Mahomes