The Mitchell Trubisky Illusion? Is the Bears Quarterback Really Back to his Best?
Published 01/03/2021, 11:01 AM EST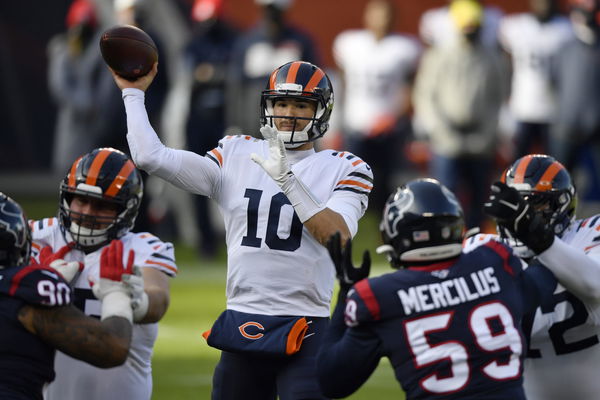 ---
---
All seemed over for Mitchell Trubisky after he was benched in the Week 3 11-19 loss to the Indianapolis Colts. Chicago Bears head coach Matt Nagy later announced that Trubisky was demoted to second-choice behind Super Bowl-winning QB Nick Foles. The veteran shot-caller went on to lead the Bears to two consecutive wins in the next two weeks.
ADVERTISEMENT
Article continues below this ad
ADVERTISEMENT
Article continues below this ad
However, Foles faltered over the next few weeks failing to win the next four games as a starter. So Mitch was brought back in after Foles suffered an injury against the loss to the Minnesota Vikings. After losing to the Green Bay Packers and the Detroit Lions, the Bears are unbeaten in their last three games. A lot has to do with some improved displays from Mitchell Trubisky.
But one begs to differ, is this all but an illusion?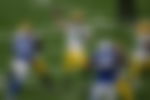 Can Mitchell Trubisky be the unlikely hero for the Chicago Bears?
As we gear up for a heated Packers-Bears game on Sunday, let's look at the resurgence of young Bears quarterback Mitchell Trubisky. Matt Nagy's boys made their way to three consecutive wins beating the Texans, Vikings and the Jaguars in succession. They are currently on an 8-7 record and remain in the mix for a spot in the NFL playoffs.
Along with the Bears defense, Trubisky has also earned plaudits for his displays in the last three weeks. But how legitimate are his 'redemption' stories?
ADVERTISEMENT
Article continues below this ad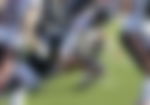 The 26-year old has thrown six passing TDs against two interceptions in the last two games. But if you look at the opponents, you understand exactly why Trubisky and Co. have been dominant. Barring Deshaun Watson-led Texans, the Jaguars and Vikings have underwhelmed most season.
How Trubisky fares on Sunday against the Bears' eternal rivals, Green Bay Packers, will spell out his future in Chicago. With Nick Foles lurking in the shadows, Trubisky needs one 'big game' to seal down a spot as the first-choice starter. No guts, no glory. No legend, no story.
ADVERTISEMENT
Article continues below this ad