The Wildly Inspiring Efe Obada Went From Being An Abandoned Child In London To Playing In the NFL
Published 03/24/2022, 3:30 PM EDT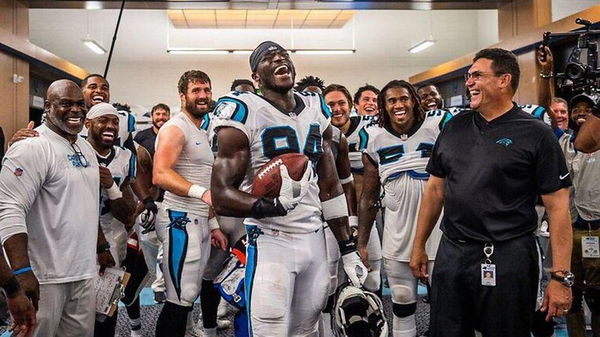 NFL franchise Washington Commanders defensive end Efe Obada and his rags to riches story might be a tale straight out of a Hollywood movie. The player, who was born in Nigeria, had a rough childhood after he was trafficked at the age of 10 from the Netherlands to the United Kingdom. Before his footballing career ever hit stride, Obada was left to survive with his older sister on the streets of London.
While Obada is not a man of the past, he did find his calling to football through the league's International Player Pathway Program. The program allows select NFL franchises like the Carolina Panthers to carry an additional overseas player on their practice squads. Obada also became the first player from the IPP program to make an NFL 53-man active roster.
ADVERTISEMENT
Article continues below this ad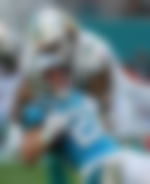 The former Panthers DE made regular progress as he witnessed his snap counts rise from 30% of the defensive snaps in 10 games during the 2018 season to 39% in 16 games in the 2020 season. He continued his progression as an NFL player by signing a 1-year, $1.485 million contract with the Buffalo Bills. But the move did see a decline in his snap counts and a minor career setback.
What made the Commanders sign Efe Obada?
Obada will be joining the Washington Commanders as a roster depth player at the DE position. He will have healthy competition as he aims to compete for a roster spot against several other young players. His great physical attributes, as well as skills, will come in handy. While the Nigeria-born DE has been a fun player to watch, he has shown effectiveness with limited opportunities.
ADVERTISEMENT
Article continues below this ad
The Commanders fan will be hoping that Obada has a breakthrough campaign, and potentially becoming a nightmare for opposing offenses. Obada will be entering his prime years and has some familiar faces from his 4-year stint in Carolina at Washington.
ADVERTISEMENT
Article continues below this ad
Despite all the odds against him, he might be what the Commanders need. He will be the third international player on the Washington roster after David Bada and Sammis Reyes. In order to cap off his stunning career, he will be hoping to make this chance count.
Watch This Story: Mac Jones to Face the Wrath of Aaron Rodgers, Josh Allen, Joe Burrow, and More Power-Packed Quarterbacks in the 2022 Season