"They Have Already Engraved Aaron Rodgers' Name on it"- NFL Analyst Suggests Packers QB is Favourite for the MVP
Published 12/15/2020, 1:03 PM EST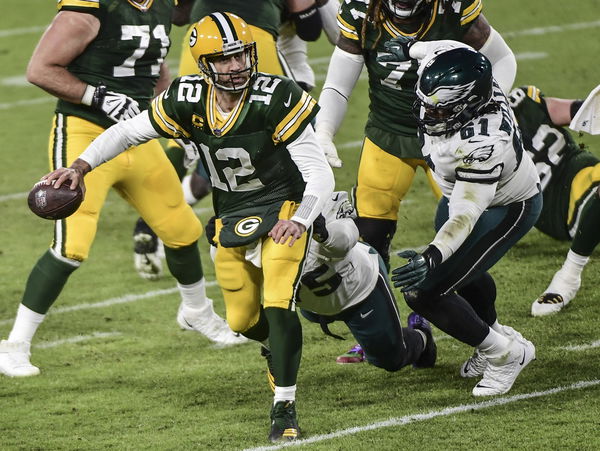 ---
---
The Green Bay Packers have been one of the best teams in the NFL this season. They boast of a 10-3 record in the NFL and are first in the NFC North. And behind this great season, has been the excellent form of star quarterback Aaron Rodgers.
ADVERTISEMENT
Article continues below this ad
Rodgers is having an MVP level season this year. Former Super Bowl Champion Bucky Brooks spoke on Speak For Yourself about whom he thinks the MVP is.
He gave a very direct answer. "I hate to tell you, earlier today I got a chance to look at the trophy. When I was looking at the trophy, they have already engraved Aaron Rodgers' name on it! Aaron Rodgers is the front runner. It's over with." 
ADVERTISEMENT
Article continues below this ad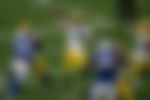 He remarked that Rodgers has defied expectations this season. Especially given that the Packers were looking to replace him at the start of the year.
"Because there are a couple of different ways that you can approach it. You can approach it as- a) How did the player come into the year? How was he viewed? And I think when you look at it, Aaron Rodgers – they were drafting someone to replace him." 
Aaron Rodgers – MVP?
He contrasted the difference between Rodgers' Packers and Patrick Mahomes' Chiefs. Brooks noted that Rodgers' season is more impressive because he has an average team around him.
"He got up of the mat. His team is the number one team in the NFC. And then when you look at the numbers; 39 touchdowns, only 4 interceptions, passer rating of 119.7.
"And then when you think about who is he playing with. I mean, my guy Pat Mahomes is playing with an All-Star team…"
ADVERTISEMENT
Article continues below this ad
Brooks noted that while he has been critical of Rodgers this season, he absolutely deserves the MVP honors this year. "Can we name who Aaron Rodgers is playing with outside of Davante Adams? No…That's what Aaron Rodgers is doing.
"So he deserves the MVP. And it is hard for me, because I've been very critical of Aaron Rodgers, but I just wanted the best for him. He has responded and so he should get his third MVP."
ADVERTISEMENT
Article continues below this ad
It remains to be seen if Rodgers will win the MVP this year. He is certainly one of the front-runners for the award, and it would be his 3rd MVP win.