'This Era of Player Just Doesn't Love Football': ESPN Pundit Blasts NFL Draftees For Opting Out of Bowl Games
Published 01/03/2022, 5:03 AM EST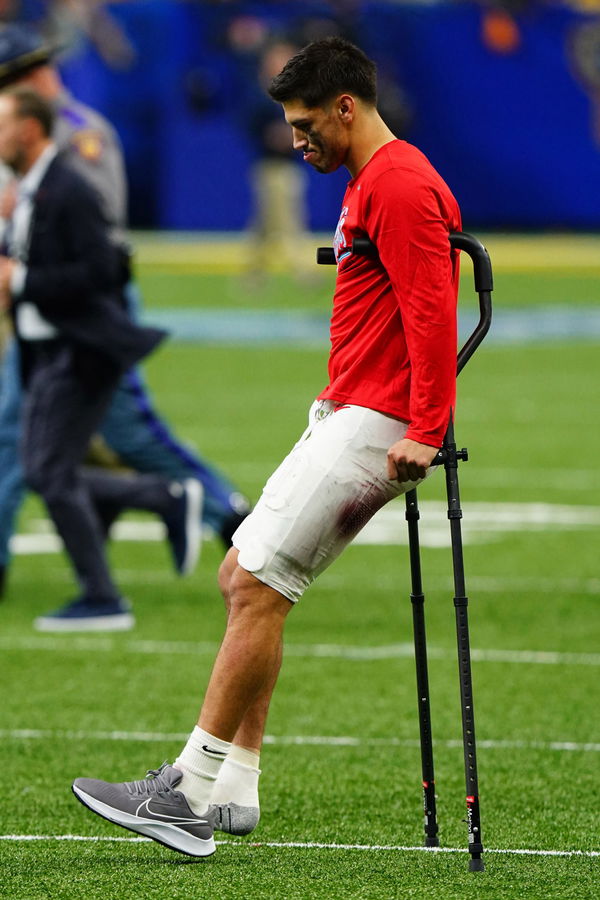 ---
---
ESPN analyst and College Football expert Kirk Herbstreit expressed his displeasure over NFL Draft prospects opting out and preserving themselves. A former Ohio State player and broadcasting vet, he sounded off on the callousness and entitlement of those college players. He was also backed by his co-analyst Desmond Howard, who wasn't most pleased on displays of such reluctance to play.
ADVERTISEMENT
Article continues below this ad
Herbstreit was quoted saying, "I just don't understand—if you don't make it to the playoff, how is it meaningless to play football and compete? Isn't that what we do, as football players, we compete?" While stating his opinion, Kirk didn't hold back, concluding, "I don't know if expanding (the playoff) is going to change anything. I think this era of player just doesn't love football."
ADVERTISEMENT
Article continues below this ad
ESPN's Kirk Herbstreit criticized players who opt out of bowl games to prep for the NFL draft and thinks "this era of player just doesn't love football."

All but 1 of this year's bowl games is an ESPN production. It has a vested interest in stars playinghttps://t.co/Txs0EA1HMB pic.twitter.com/wrngMWCZZl

— Yahoo Sports College Football (@YahooSportsCFB) January 1, 2022
Howard, who agreed with Kirk, also pitches in with his opinion stating, "When we were both coming up, Herbstreit and myself, to go to a Bowl game was a huge reward for a fantastic season. Now kids don't really care about that. They have a sense of entitlement."
Just wanted to clarify some of my comments from earlier today. Of course some players love the game the same today as ever. But some don't. I'll always love the players of this game and sorry if people thought I generalized or lumped them all into one category. pic.twitter.com/PS9Pu5rcoo

— Kirk Herbstreit (@KirkHerbstreit) January 1, 2022
While Herbstreit did clarify that all his comments weren't supposed to be for all players in general. All these big Bowl games really mean something to every college football player. The only thing that makes them opt-out was the risk of getting injured rather than other motivations.
Are ESPN Analyst Criticisms of NFL Draft prospects harsh?
The opinion made live on the air of both analysts received plenty of backlash on social media. Their views do display a degree of naivety towards thousands of players in the college system of being spoiled.
Famous news outlet Sports Illustrated reported Ole Miss QB Matt Corral's injury as one of the feared reasons among prospects and a potential trend. The hesitancy to not get in between their own chances makes every prospect pick and choose their appearances in the modern era.
Several other college football playoffs following Twitter users did pitch in with their thoughts. One user against Kirk's opinion tweeted, "So caring about a chance at generational wealth instead of running the risk of getting hurt in a meaningless bowl game makes them soft? Ya, that's about as dumb as an opinion an anyone will ever read."
Ole Miss QB Matt Corral returned to the field after suffering an apparent right leg injury.

Corral, a junior who plans to enter the 2022 NFL draft, made a point to play in the bowl game as many draft-eligible players have chosen to opt-out.

🏈: https://t.co/zoa7wfCMkY pic.twitter.com/YFOwjA4hI5

— Sports Illustrated (@SInow) January 2, 2022
ADVERTISEMENT
Article continues below this ad
While another user tweeted, "No need to clarify—you are exactly right to call out the bullsh*t. Football is a TEAM game. Commit to your TEAM. Don't let your TEAM down. It's absurd." 
Major NFL franchises have seen their players skip such Bowl games in the past. Like both Carolina Panthers RB Christian McCaffery and Tampa Bay Buccaneers RB Leonard Fournette did before the 2019 NFL Draft. This situation splits the fan base into two blocks. One who wants them to play for the prestige of these Bowls, while the other wants them ready for their big payday. 
ADVERTISEMENT
Article continues below this ad
Though the agreeing minority were few and far between the disagreeing majority, the debate really is one that gives plenty of fans food for thought.  
Watch Stories: Five Things That Took Place When Aaron Rodgers Threw His First TD Pass for Green Bay Packers