"This was the Lamar Jackson Experience I've Been Asking For"- Former NFL WR Lauds Ravens QB for MNF Performance
Published 12/15/2020, 1:30 PM EST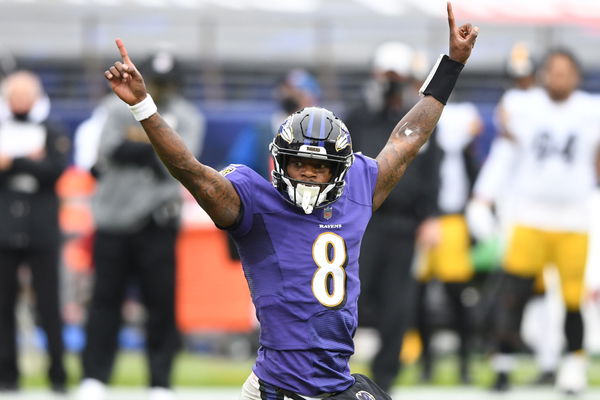 ---
---
Lamar Jackson showed the world, yet again, why he was voted as the unanimous MVP last season. In a game-winning performance against the Cleveland Browns, the Baltimore Ravens quarterback rushed for 124 yards, which included 2 ground touchdowns.
ADVERTISEMENT
Article continues below this ad
The performance was reminiscent of his form last season that saw him become only the second-ever unanimous MVP.
Former NFL wide receiver Nate Burleson took note of Lamar's performance during a segment of NFL's GMFB and said that it was exactly the sort of performance that he and fans alike wanted to see from Lamar all season.
ADVERTISEMENT
Article continues below this ad
Extending plays like none other
"For me, this was the Lamar Jackson experience that I've been asking, for… There are certain plays that stand out. Right before halftime, Lamar Jackson in the pocket, with it collapsing around him.
"He's spinning around and sometimes it doesn't work and in this game, it didn't work a couple of times. But then he finds Mark Andrews, and he releases late and they get in field position," Burleson said.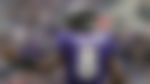 "So he's extending the play with his legs in a way that only Lamar Jackson can do. After that, he just goes like, I'm just going to take matters into my own hands, like a superhero, and he gets in the end zone."
ALSO READ- Trevor Lawrence and 'Big Apple' Appeal: Why New York Jets Would be a Dream Destination for any NFL Coach 
Lamar Jackson finally taking over
Burleson further said that Lamar, being the unanimous MVP from last year, should be taking control of games. And in the game against the Browns, he did just that and how!
"All year I've been talking to Lamar and I've been saying, 'If you're the man and if you're the unanimous MVP from last year, there are certain games where you just take over," he said.
"9 rushes, 124 rushing yards, and 2 touchdowns on the ground, that's running back numbers. Fantastic running back numbers. I could care less about the 17 (pass) attempts. Don't even tell me about how much he passed the ball.
"The fact that he took the team and said that I'll put you on my shoulders and I got you. That's what real MVPs do, and that's what he looked like last night."
Comparisons to Kobe and MJ
The former Seattle Seahawks WR also drew comparisons to Basketball legends Kobe Bryant and Michael Jordan. With their ability to dictate games, Kobe and MJ went on to redefine the sport.
ADVERTISEMENT
Article continues below this ad
Something that Burleson expects from last season's unanimous MVP. "In certain games Kobe said, I'm not passing. Michael Jordan said, this is on me.
"There are games where our best quarterbacks say it's going to be on me whether we win, or we lose," said Burleson. 
With the Ravens still in the hunt for a spot in the Playoffs, what better time for Lamar to get his groove back. 
ADVERTISEMENT
Article continues below this ad