"Those Games are Gonna be Inches" – Analyst Predicts Cleveland Browns Will be in the Playoffs This Year
Published 06/28/2020, 1:22 PM EDT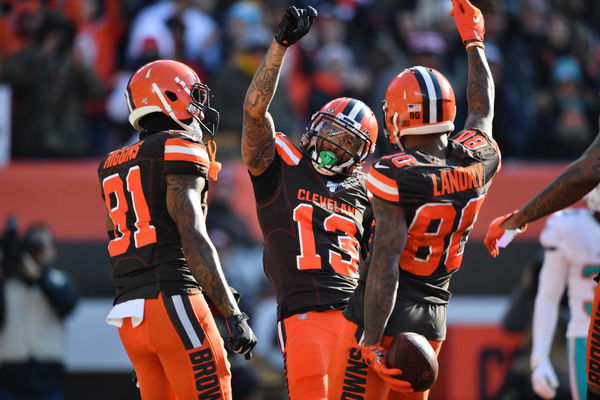 The 2019 season wasn't the best for the Cleveland Browns. It began with great hope and expectation but ended with a disappointing 6-10. The Browns haven't made it to the playoffs since 2002. But now, analyst, Colin Cowherd believes that the team could make a playoff appearance in the 2020 season.
ADVERTISEMENT
Article continues below this ad
Why the Cleveland Browns could make it to the Postseason?
Colin Cowherd predicts that this year, the Browns will be "above 500, [and] it's very obvious". According to PFF, the Cleveland Browns have what could be termed as an easier schedule this season. While most people believe schedules don't matter, Cowherd always says they do. "If you have Sam Darnold, Derek Carr, Baker Mayfield, Kirk Cousins… I pay attention to the schedule. Those games are gonna be inches, not feet," the analyst said.
ADVERTISEMENT
Article continues below this ad
Last year, he predicted that the Browns wouldn't make it to the playoffs because "Baker [Mayfield] was in his first full year [as starting quarterback], Freddie Kitchens was in his first year as head coach… and the weakness of the team was the offensive line. If you went to their schedule, seven of the eight head coaches they faced last year… they were gonna get the hell knocked out of them."
ADVERTISEMENT
Article continues below this ad
Why Cowherd likes the Browns this year is because, in their first eight games, the team will face head coaches who aren't very comfortable with their quarterbacks yet or otherwise aren't the best prepared. "After John Harbaugh, it's Zac Taylor. I don't know if he's a good coach with a rookie quarterback. Ron Rivera implementing a new system with Dwayne Haskins – I don't know if he's a good quarterback." Mike McCarthy and Dak have never worked together before and neither have Frank Reich and Philip Rivers. "And then, it's Jon Gruden and Derek Carr. I don't even [know for sure if] they get along."
ADVERTISEMENT
Article continues below this ad
Colin concluded by saying, Cleveland will win quite a few games in 2020. "They're gonna go 9-7 or 10-6", he said. He further said that when you don't have a star quarterback (he doesn't believe Baker Mayfield is one), "it becomes really important to get a scheduling break."
"Cleveland will be good, and they'll be, as long as the numbers balance out, a playoff team this year… Stuff isn't difficult."