Three Possible Landing Spots for Wantaway Packers QB Aaron Rodgers
Published 05/04/2021, 9:08 PM EDT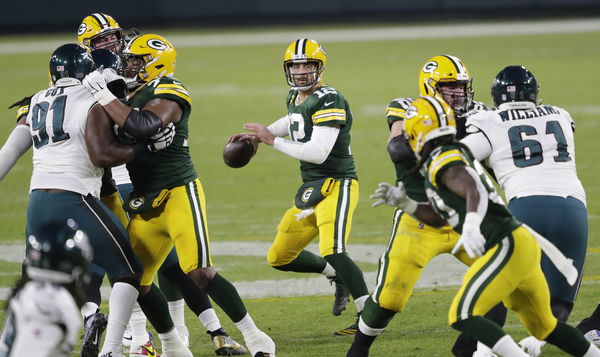 ---
---
It's no secret that Aaron Rodgers was disappointed after the Green Bay Packers suffered their second consecutive loss in the NFC Championship game earlier this year.
ADVERTISEMENT
Article continues below this ad
The veteran NFL quarterback and his teammates lost to eventual Super Bowl LV winners, Tampa Bay Buccaneers, by a 26-31 scoreline.
Despite winning the league MVP title, the disappointment of missing out on a Super Bowl was evident on Rodgers' face in the post-game interview.
ADVERTISEMENT
Article continues below this ad
He sent out a lot of mixed signals in the weeks following the Packers' recent loss. But later confirmed that he will play for his beloved Green Bay in 2021.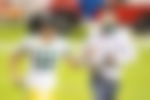 Then, a day before the 2021 NFL Draft, everything changed. Reports from within the Green Bay organization confirmed that Aaron Rodgers was not keen on playing for the Packers and was in no mood to show up for pre-season.
Further news reports said that Rodgers wants a move away and does not want to listen to what coach Matt LaFleur has to say.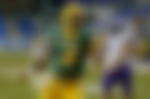 Which teams could make a move for Aaron Rodgers in 2021?
While there is no clear indication that Aaron Rodgers is on his way out of Wisconsin, we can't help but wonder – who can sign the reigning NFL MVP? We know the Denver Broncos are in dire need of a quarterback.
But could the Las Vegas Raiders also be a potential landing spot for the soon-to-be 38 quarterback?
A-Rod concluded the 2020 NFL season with 4,300+ passing yards and 50+ passing TDs while winning his 3rd NFL MVP title. By no means has he reached the 'endpoint' of his distinguished career in American football. The veteran shot-caller has previously said that he intends on playing well into his 40's.
Green Bay Packers GM Brian Gutekunst and coach LaFleur will not be willing to trade Rodgers to NFC rivals. This means that the Broncos and Las Vegas are both legitimate options in terms of a trade deal.
Coach Vic Fangio will be delighted to welcome Rodgers to Colorado. Imagine Rodgers on offense and Von Miller and Co. in defense, Denver would be unstoppable! But Jon Gruden's Raiders also pose an interesting option for Aaron. Yes, they do have Derek Carr. But coach Gruden is a big fan of Rodgers.
In fact, he even claimed that one of his biggest regrets is not drafting Aaron Rodgers during the 2005 NFL Draft (Gruden was Tampa Bay Buccaneers HC at the time).
But another team that might be in the mix for the 1-time Super Bowl winner is the Joe Judge-led New York Giants. The NFC East old boys remain unconvinced by former 1st-round pick Daniel Jones.
ADVERTISEMENT
Article continues below this ad
They've also acquired multiple 1st-round picks from the Bears this summer. They could use that as a bargaining chip for any potential deal involving Rodgers.
ADVERTISEMENT
Article continues below this ad
Where do you think the Green Bay superstar will end up in 2021?