THROWBACK: Dallas Cowboys Outsmart Opposition with Ingenious Play
Published 03/28/2021, 3:06 PM EDT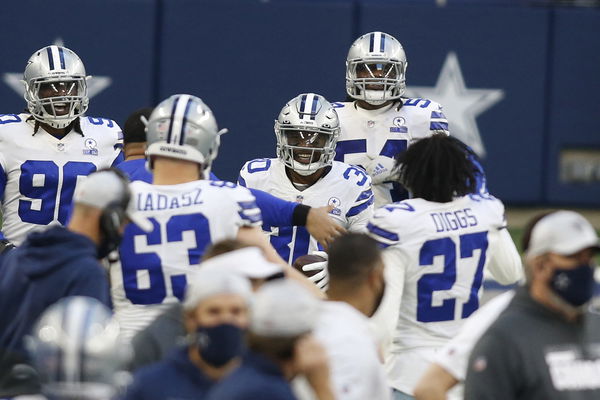 ---
---
The Dallas Cowboys are America's team. Despite them struggling for success in recent seasons, the Cowboys have been synonymous with success in the NFL for much of its history.
ADVERTISEMENT
Article continues below this ad
They were, for the longest time, the standard-bearers for excellence in the NFL, showing their quality on a weekly basis. One such ingenious play happened 20 years ago with kicker Tim Seder.
In Week 11 of the 2000 NFL season, the Dallas Cowboys took on the Cincinnati Bengals. The Bengals had already let the game get away from them, being down 4 points at the time.
ADVERTISEMENT
Article continues below this ad
In an incredible play, Cowboys' kicker Tim Seder took to the field, in what looked like a field goal attempt. However, he and the Cowboys bamboozled the Bengals when Seder rushed the football into the end-zone for a touchdown.
talk about random plays burned into the memory:

I have never seen a fake field goal as cool as the Cowboys parting the waters to hand off to kicker Tim Seder. love this 🙂 pic.twitter.com/YUp4FM6Vkp

— Jack M Silverstein (@readjack) September 27, 2019
It was an incredible play from Seder, who then proceeded to bank the field goal for the Cowboys after his touchdown. It was perhaps the best game of Seder's career, as he went on to score 17 of the Cowboys' 23 points in their blowout win over Cincinnati. Seder went on to repeat the feat again next year, playing against the (then) Oakland Raiders in Week 4.
Dallas Cowboys- Pinnacle of Excellence
Plays like these encapsulate the quality that the Dallas Cowboys brought to the field on a nightly basis. The Cowboys were considered one of the most ingenious teams in the NFL.
Whether it be on the offensive end or the defensive end, the Cowboys represented everything creative about the NFL during their heyday.
On that day, Seder became the first kicker in NFL history to score a rushing touchdown for his team. Since then, there have been instances where teams have asked their kickers to fake a kick in order to get an edge over the opposition defenses. But none have been able to execute it as well as Tim Seder and the Dallas Cowboys did on that November day of 2000.
ADVERTISEMENT
Article continues below this ad
Is Tim Seder's fake kick to rushing touchdown one of the greatest NFL plays in history? It takes a lot of ingenuity to create history in the NFL with a play.
And for the Cowboys, they have the honor of having the first-ever play with a kicker rushing the ball into the end zone.
ADVERTISEMENT
Article continues below this ad