THROWBACK: San Francisco 49ers coach Kyle Shanahan Predicts a Green Bay Packers Penalty
Published 05/13/2020, 7:53 AM EDT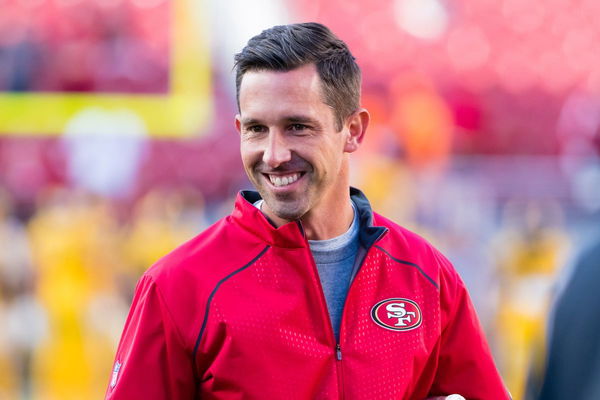 ---
---
Kyle Shanahan began his coaching career immediately after graduation. The 40-year-old has progressed from a graduate assistant at UCLA to head coach of the San Francisco 49ers. He secured the gig in 2017 and took the team to the Super Bowl in just his 3rd season. En route, he became the envy of football enthusiasts all over.
ADVERTISEMENT
Article continues below this ad
San Francisco 49ers coach Kyle Shanahan predicts a penalty right before a snap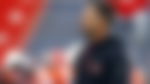 ADVERTISEMENT
Article continues below this ad
The incident took place at last season's NFC Championship game. The San Francisco 49ers head coach was seen informing an official about a penalty the Green Bay Packers defense was about to commit with the score 34-20 in his side's favor. 
Shanahan said, "Five-yard out route, 85 versus their guy. He's going to go inside and then break out, he won't let him out, watch."
The difference between The #49ers and the rest of the NFC West is the evil genius Kyle Shanahan as the HC.

Throwback to Shanahan guessing the Packers' defense would hold George Kittle before the ball was even snapped. 🧙🏻‍♂️ 👨‍🔬

— OurSF49ers (@OurSf49ers) May 11, 2020
ADVERTISEMENT
Article continues below this ad
As the whistle went they snapped the ball the Packers defensive back Will Redmond was holding onto George Kittle. As a result, the tight end was rendered ineffective to make a play on the football. In retrospect, it was a bad move by the Green Bay Packers. This is because they were running out of time to advance to the Super Bowl and should have focused on ensuring that the 49ers did not advance ten yards.
The Aaron Rodgers side failed to open their account in the first half. It was the second time in the season that the 49ers blew them away in the first half. As a result of their foul, the to be NFC Champions got a fresh set of downs. This resulted in a 3 point field goal which extended their lead to 17 points with 3:31 left on the clock. 
Unfortunately, a final quarter meltdown cost Shanahan the Super Bowl title. Here, the Kansas City Chiefs overcame a 10 points deficit to win the match by 11 points. 
ADVERTISEMENT
Article continues below this ad
He will have analyzed and re-analyzed every single second of what went wrong. But he would have done this off-camera. Fans will no doubt be aware of how sharp the seasoned coach is as the 49ers aim to go one better in the 2020 NFL season.