Watch: The Touchdown Machine of Green Bay Packers
Published 05/31/2020, 8:25 PM EDT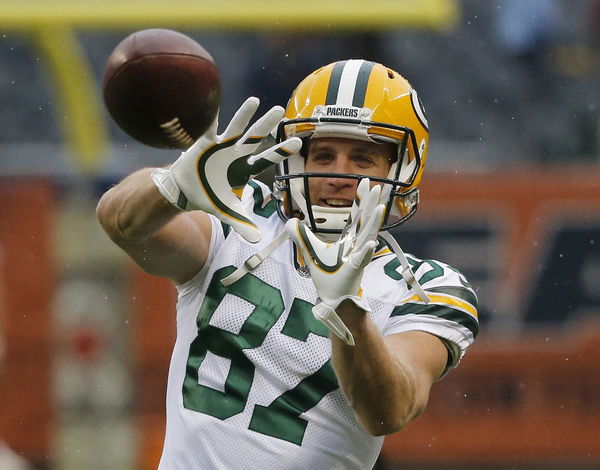 ---
---
Jordy Nelson, former wide receiver for the Green Bay Packers is celebrating his 35th birthday today! As a consequence, the NFL decided to throwback to his 11-year long career.
ADVERTISEMENT
Article continues below this ad
ADVERTISEMENT
Article continues below this ad
Fantastic Career
The NFL called Nelson a touchdown machine for the Packers and rightly so. Through his career, he had 8,587 receiving yards and 72 touchdowns. The man was a beast on the field. He won the Super Bowl XLV in 2010 against the Pittsburgh Steelers and was called to the Pro Bowl in 2014.
ADVERTISEMENT
Article continues below this ad
As a student at Kansas State, he had 2,822 yards and 20 touchdowns to his name. He has earned consensus All-American honors and was a finalist for the Biletnikoff Award after catching 122 passes for 1,606 yards and 11 touchdowns.

In the historic victory over the Steelers, Nelson had nine catches for 140 yards and a touchdown. He took over after Donald Driver retired from the game with a broken ankle. Jordy didn't think too much about it at the time nor get caught up in the pressure of the ups and downs as the game unfolded. He simply lined up every play, did his thing, and let the chips fall.
"It's still frustrating to look back and I've yet to watch the game and probably never will watch the game. Any athlete, you remember and regret the bad more than you do the good. Hopefully, now I can enjoy the good", the receiver said.
Work Hard and Don't Be A Big Mouth
ADVERTISEMENT
Article continues below this ad
He is one of the most beloved Packers of all time. This is because he remained true to his roots as a farm kid who only knew to work hard. "Guys like Charles Woodson, Aaron and Donald, they hardly talked and just worked, and it set the standard," Nelson said. "It was easy to step right into it."
Having only been a receiver for three years before he was drafted, Jordy had a lot to learn and thus, focused on the conversations Aaron Rodgers had with his veteran receivers.
Nelson finished his career in 2019 with the Oakland based, Las Vegas Raiders. Despite not being able to catch another TD pass for the Green Bay Packers, Jordy has no regrets what so ever.
He recently told Mark Carman of FanSided that he is truly
enjoying
the transition from NFL to farm life. He always knew that was what he was going to go back to after ending his professional career.
Here's wishing this humble star footballer a very happy birthday!
Trending Stories