"To Simulate Lamar Jackson's Speed, You'd Need an Olympic Sprinter" – Jaguars Head Coach All Praise for Ravens QB
Published 12/17/2020, 5:27 AM EST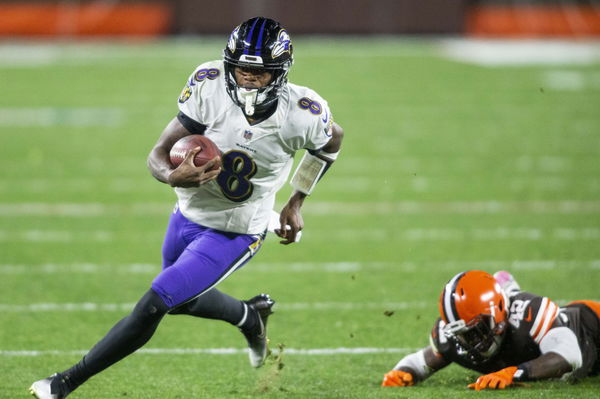 ---
---
Lamar Jackson has redefined the position of quarterback. In the NFL, the Baltimore Ravens QB's ability to rush the ball is unrivaled. The effectiveness of Jackson's running game was on full display against the Cleveland Browns on Monday Night Football.
ADVERTISEMENT
Article continues below this ad
Rushing for 124 yards, which includes 2 touchdowns, his numbers look too good to be true for a QB. Even Jacksonville Jaguars' head coach Doug Marrone admitted that it's difficult for anyone to match Lamar in a foot race. 
Lamar Jackson – fastest QB in the league 
ADVERTISEMENT
Article continues below this ad
Head coach Marrone spoke to ProFootballTalk, ahead of their game against the Ravens. He said that only an Olympic sprinter would be able to go toe-to-toe with Lamar for pace. 
"In order to simulate him (Lamar Jackson), you'd have to go out there and get, truly, an Olympic sprinter," Marrone said. "I think everyone has a difficult time doing that. We'll take a good look at that and get someone doing that with a little bit more speed at times when we need to do that."
Jackson's performance against the Browns didn't go unnoticed as he picked up the AFC offensive player of the week award. 
Lamar Jackson currently has 793 rushing yards to his name this season. The highest among all quarterbacks in the league. He's also the only QB with two 100+ rushing yard games this season.  
ALSO READ – NFC East: Which Team Could Make the Cut for the Playoffs
Lamar Jackson has a fabulous throwing arm
One aspect of Lamar's game that is often overlooked is his passing. The QB has racked up over 2,200+ yards in the 12 games he's started this season. Apart from the 6 rushing touchdowns he's recorded, he has also thrown 18 touchdowns. 
ADVERTISEMENT
Article continues below this ad
"He's got a good arm and he can throw," Marrone said. "But the speed of him on the field — he always looks like the fastest guy on the field, and that's a credit to him. A three or four-yard gain turns into a 16-yard gain the other day."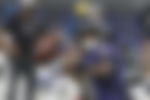 Lamar will hope to carry forward his good form in the game against the Jaguars, who have struggled to contain quality ground offenses. A case in point being their recent loss against the Derrick Henry-led Titans offense.
ADVERTISEMENT
Article continues below this ad
ALSO READ – NFL Insider Provides Injury Update on Alex Smith and Daniel Jones