Tom Brady Adds Another Hilarious Anecdote About Tablet Throw: 'I Can't Throw Another Surface Or Else I Get Fined'
Published 12/30/2021, 12:45 PM EST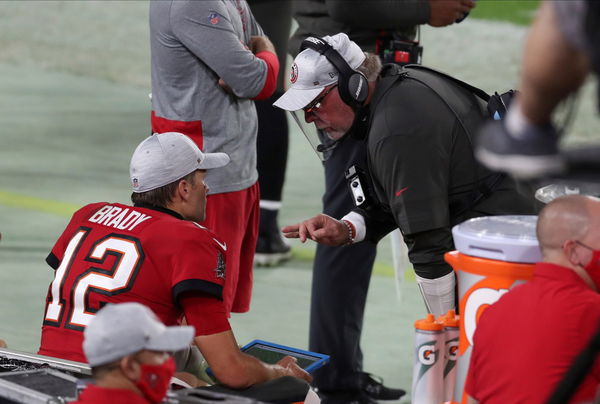 ---
---
Sometimes everybody loses their cool. Even with the nickname "California Cool," Tom Brady has been guilty of throwing a tantrum from time to time. The greatest football player ever is only human, after all. The most recent of these events was the infamous tossing of a tablet.
ADVERTISEMENT
Article continues below this ad
During the Sunday night football game in Week 15, Tom Brady was super mad. Tampa Bay Buccaneers lost to the New Orleans Saints without scoring a single point. The Saints shut down Brady with a score of 0-9. After being intercepted, again and again, Brady was frustrated. He let out his frustration on a Microsoft Surface tablet. Tom smashed the device on a crate behind the bench he was on. The NFL has noted the incident and decided to take action. 
ADVERTISEMENT
Article continues below this ad
Tom Brady cannot smash another table without being fined
The league is not going to allow the tablet abuse to continue. On Monday during his "Let's Go" podcast, Brady revealed that he will not hurt another tablet. Brady said, "I did get warned from the NFL about that so… I won't throw another Surface." 
The chucking of the tablet has become a meme. Many fans have trolled Brady for it. Even Brady's co-host Jim Gray couldn't help himself. He made a joke about the incident and said it was good marketing for Microsoft. The NFL has used the tablets for a long time. 
Gray asked Tom Brady to give more details about the warning from the NFL. Brady said, "I can't throw another Surface, or else I get fined. Imagine that." We all know that the NFL fines can be very hefty. 
Brady joked about the incident last week as well
ADVERTISEMENT
Article continues below this ad
In the previous installment of the "Let's Go" podcast, Tom Brady was talking about the tablet as well. Jokingly he said, "I didn't want to throw an interception with that tablet, so I made sure it hit the ground." 
ADVERTISEMENT
Article continues below this ad
Brady was probably referring to frequently being intercepted in the game. "It was out of use, there was no chance of that one being used after I got a hold of that tablet." We all saw the damage done to the poor tablet. Brady needs to be careful with those things, or the next one he breaks might cost him a lot. 
Watch Story: NFL Announces NFC 2022 Pro Bowl Rosters- Chandler Jones, Micah Parsons, and more